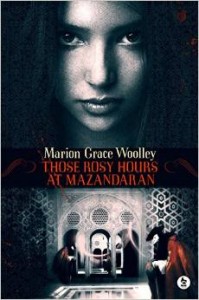 The opening lines are a spell, drawing the reader in to what will turn out to be a dark place. "I was the first, you see. The very first daughter. There would be many like me to come. Svelte little figures, each with saffron skin and wide, dark eyes. Every one possessing a voice like honey, able to twist the santur strings of our father's heart…Though my name has since been removed from the annals of history, it was Afsar…I was she and no other…How the years slide by, and what we thought so solid, so everlasting, simply shifts like sand beneath our feet." (5) Afsar, oldest daughter of the Shah of Iran, is just about to turn 11. She has her own rooms in the harem, where she spends the majority of her time alone or with her servant, due to the death of her mother when she was about 5, an event she doesn't remember. One bakingly hot day, her father calls her to hear news from a visitor, of a man with a face that inspires terror yet whose voice confirms he is angel not demon. Her father promises to bring the circus with this man to her in time for her birthday, little realizing what that act will entail.
As promised, the man is amazing. His show is fantastic, magical, filled with wonderment, but when the Shah makes him remove his mask, the result is terrifying. Afsar, however, is intrigued. Strong-willed and spoiled, she soon realizes she has more than met her match in the man she initially calls Vachon. Theirs is a tale of friendship and love, cruelty and death, a dark fantasy of blood and power, as they find that their souls are mirror images of each other, even as he achieves a freedom of movement that she cannot.
Those Rosy Hours at Mazandaran
is a prequel to The Phantom of the Opera. Those of you who've read the book (or the wiki page) rather than just seeing the musical or movie may remember that the narrator is a Persian man, rumoured to have been the Shah's assassin, his past shrouded in mystery. The novel sets up Vachon, who comes to be called Eirik, to end up as the Phantom. Prefigured are his hidden passageways and torture chambers, his ability to throw his voice and enchant, and his penchant for wearing fantastic, elaborate masks. But the main character is Afsar, raised a princess yet not taught how to wield power without letting it destroy both herself and those around her.
Those Rosy Hours at Mazandaran
is a dark tale, fantastically written, sumptous and gorgeous but filled with blood and death. As such, it was a bit too much for me. However, it's beautifully written, a feast for the senses. If you've imagined how the Persian came to travel with the Phantom, or if you want to immerse yourself in a glittering, powerful court where cruelty runs in the veins, this is the book you'll enjoy.