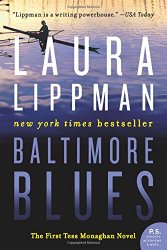 Laura Lippman is a well-known name in mystery-writers circles, and her tales of Tess Monaghan the reluctant P-I, written between 1997 and 2008, were hugely popular. However, over the last several years, she's written a series of stand-alone books that didn't involve the beloved detective. Her latest book, Hush Hush, brings us back to Tess' life. In celebration, William Morrow Publishing has reissued the first of the Tess series, Baltimore Blues
.
We are introduced to Tess as a downsized reporter, approaching 30, living above her aunt's bookstore and working part-time there and part-time for her uncle, who pays her out of his own pocket. She's spinning her wheels in many areas–career, love, and even exercise, where she's an enthusiastic but ultimately undisciplined rower who nonetheless faithfully works out every morning on the bay. This has led to a friendship with Darryl Paxton, known as The Rock, a nationally-ranked rower who's become her friend.
When The Rock asks her to spy on his fiance, Tess is uncomfortable but needs the money. She soon finds out that the unsympathetic Ava is as unsavory as she seems, but her decision on how to confront The Rock with this knowledge leads to more trouble. Tess concocts a plan in which Ava is the one to break the bad news, but this backfires when an upset Rock goes to confront the objectionable lawyer Michael Abramovitz, and he's later found dead in his office. Of course Rock is arrested and charged. He hires another rower as his lawyer, a former Olympic medalist now in a wheelchair, who hires Tess to do some busy-work for him, little realizing how this will change her life.
Tess is convinced of her friend's innocence, but things look very bleak indeed, especially as Rock admits to physically assaulting the man. She begins her own investigation, digging deep into Abramovitz's past and doing some light breaking and entering, never realizing she might be endangering those around her.
The novel has a somewhat uneven start, noticeable because Lippman has become a much better writer with time and practice, but things soon pick up, characters develop, and the book becomes hard to put down. Tess is likeable from the start. It's fun to watch her begin to use her skills gained as a reporter to uncover things, and her instincts to make the right guesses and follow the right leads. The city itself is almost another character in the novel, and Tess has to put her knowledge of the place to use time and again to get what she wants.
Baltimore Blues
is an excellent first novel. This edition also includes a brief interview with the author in the back, and it was fascinating to read her account of how she began to write novels in the first place.