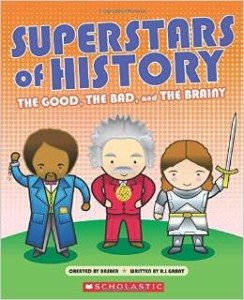 I'm a huge history buff. I love getting all the references people make to history, and yes, history was one of my favorite subjects in school to the point that I was *thisclose* to having a history major in college, as well. My kids enjoy history, as well, but even in 4th and 5th grades, they haven't gotten very much exposure to many history lessons in school. Superstars of History by R. J. Grant is just the ticket.
This softcover book filled with illustrations covers many famous figures in history, and (rightly in my mind) details them starting with the most ancient and working up to the most recent "historical" figures. As with most history, this covers primarily men as women for so much of history had little import. Cleopatra is included, as is Elizabeth Cady Stanton, and four others (out of a total of 40 historical figures in the book).
Each person is allotted two pages within the book, just enough to pique a child's interest without making it feel like they're "studying" something. The first page is a cartoon illustration (by Simon Basher, for those who are familiar with his work) that makes it clear why the person is famous – a warrior, doctor, scientist, etc – as well as a quote that sums up their beliefs or achievements, such as, "King of kings am I" from Ramses II. The second page includes quick hits about the person in question, a timeline of their lives, their legacy, a brief lesson on why they were famous, and other quick facts.
It's enough to provide some insight and familiarity, and after reading this book, my children were both interested in finding more books about their favorite people. For my son, this included Josef Stalin, as the book includes the "baddies" of history, as well as those famous for more positive reason. They aren't glorified in this book, but the bit of good they did do isn't fully ignored, such as Stalin joining the Allies in fighting against Hitler and the rest of the Axis.
Mostly because of the less savory characters included in the book – Stalin and Hitler, obviously, but also Mao Zedong – I would hesitate to give it to a younger elementary child. To explain the Master Race, which is briefly alluded to in the book and the mass killing of 6 million by Hitler, as well as his committing suicide, among other true facts that shouldn't necessarily be glossed over, is not a conversation I'm quite ready to have with a six year old. My nine and eleven year olds, however, are more comfortable with the topics and are less likely to overgeneralize the atrocities mentioned in the book.
Interestingly, it truly is only the most recent three ruthless leaders who are discussed in a negative way. Other conquerors, who most definitely used terror and cruel tactics had their ill deeds called out less explicitly, perhaps as history has dimmed the impact of what those leaders did to unify China (Qin Shihuanngdi) or take over half of Asia (Alexander the Great) or invade most of Europe and Britain (Julius Caesar), among others. Simply because it happened long ago doesn't mean that it wasn't as absolutely horrifying.
That said, this is a great little book to introduce middle and late elementary school kids to history. It's a quick read and good reference book to get an idea of what these historical figures are like and to see in how many different ways people of various backgrounds truly made a difference in history.
Written by Michelle of Honest & Truly! who is grateful to have never lived in an invaded country and enjoy the fruits of the labors of so many of these historical figures. See how she lives her life (as a not famous person) on her blog Honest & Truly! and follow along with her on Twitter where she is also @HonestAndTruly.