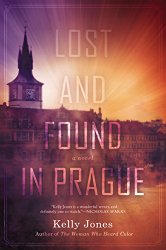 Every year for 2 weeks surrounding Easter, Dana Pierson turns off her cell phone, leaves her laptop behind, and travels, alone, to avoid painful memories. This year, she's returning to Prague for the first time in 20 years. The last time, she participated in the student protests that formed a major part of the Velvet Revolution that saw the end of Communism, and left behind her best friend and cousin, Caroline, who still lives in the ancient city. This reunion, meant to pick up the threads of their lost relationship, is marred by a strange death of an elderly nun in Prague's most famous cathedral, just in front of the altar where the Infant of Prague is displayed. And there's something suspicious about both the death and the statue itself…
Lost and Found in Prague
introduces us to three characters who end up forming an unlikely team. First is Dana, her grief firmly bottled up, a successful investigative journalist. On the flight to Prague she meets Father Borelli, an older priest who is urbane and sophisticated, loves fine dining and chain smoking, and who has been summoned to Prague to deal with a mystery of his own. Finally there's Czech investigator Dal Damek, who's investigating the execution-style murder of a local politician and wondering if his death has any connection with that of a drug-dealing former actor or with a street musician who disappeared years earlier. None of three has any reason initially to trust the other, and yet they end up connecting in unexpected ways. Revealing the truth to the current problems will take a courageous look at past events.
The title echoes on several levels, but for me it most resonated with the character of Dana, who lost things in Prague and the US and who begins to find them again. It's a thoughtful book with sensitively-drawn, sympathetic characters, and yet the action is fast-paced enough that it's a fairly quick read.
Through decades-old lists of communist spies and sympathizers, to modern day heart transplants and other miracles, through internet research to good old-fashioned key-stealing and drawer-rifling, slowly the truth begins to come to light. Each character will have to look deep within themselves to see where their motivation truly lies, and will have to take a hard look at childhood friends as well. And yet there is grace there, as each learns to move on and forgive, and looks at what is truly important.
Lost and Found in Prague
is a hopeful, redemptive story, well-written and entertaining. I highly recommend it. And I'm thrilled to announce that one of you can win a free copy. Follow the instructions below to enter.
Keep up with us at 5 Minutes for Books
Check out our current giveaways. Subscribe to our feed. Follow us @5M4B on Twitter or on Facebook.