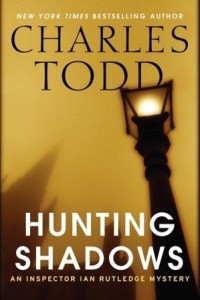 Hunting Shadows
begins by giving us a glimpse into the mind of a killer. At a funeral for his former colonel, succumbing 2 years after the end of WW1 to a long-term infection that never healed, a man catches sight of another man, someone against whom he carries a grudge but whom he'd forgotten in the intervening years. "The man responsible for Mary's death!" he thinks, and begins plotting revenge.
When Capt. Hutchinson is gunned down attending a society wedding in Ely, the police can't even determine where the shot came from. A short time later, there's another death, that of a lawyer standing for office and making a political speech. At this point, Inspector Rutledge of Scotland Yard is called in. He travels down to the small villages on the Fens in search of any connection between the two men. His quest will take him to village after village, where he will interview a washerwoman who claims to have seen a monster shooting at the politician, spend time with a lonely innkeeper who likes to chat, and run from a rector who asks him questions about his own past. The Fens are a dangerous place, flat and water-filled, with sudden deep ditches where things and people can be lost. Rutledge deals with pea-soup fogs that cause him to lose his way, and with sudden summer storms that flood the roads, taciturn locals who keep their own secrets, and an educated man with something to hide.
It soon becomes apparent he has to be dealing with an ex-soldier, someone whose job was as a marksman or a sharpshooter, someone who illegally kept his rifle. And Inspector Rutledge carries his own deep memories and scars from his time in the trenches, along with a haunting memory of Hamish, a Scottish soldier in his regiment that Rutledge had to have killed for disobeying a direct order and who now seems to always be with Rutledge, scolding, advising, warning, opining. Hamish is a secondary character in all the Inspector Rutledge books, of which this is the 16th, and I can never decide quite how to interpret him.
Hunting Shadows
is a strong addition to this series. Carefully-plotted, atmospheric and with a strong sense of place that often distinguishes the writing of this mother-son team, the novel is provides more than an excellent mystery, but also gives a thoughtful look at the ways that war's reverberations continue to echo on through the years of a soldier's life.