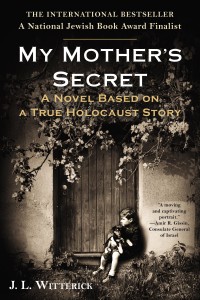 The reality of having to hide Jews to spare them from being victims of the Holocaust is a tragic one, but one with which every young teen is familiar due to the legacy of Anne Frank's diary.
My Mother's Secret: A Novel Based on a True Holocaust Story is set in Poland. Helena begins the account by sharing her own story. Of course her mother Franciszka figures into it. As Helena grows her mother's positive influence on her is evident.
The story is then taken up by Bronek, a Jew who escapes the walled-off ghetto, then Mikolaj, a young Jewish boy whose father is a doctor, and then Vilheim, a German soldier, and finally wrapped up again by Helena.
The different perspectives read like short stories. This is in fact a very short novel, less than 200 pages which includes very short chapters (less than one page). It's also a simple novel with simple poetic phrasing. It reads almost as if it was translated from another language, which somehow makes the story seem more authentic.
The story of the Holocaust is one that we must never forget. As we remember the hideous actions of a few powerful people and those who went along with it — willingly or not so much — we must remember those like Franciszka who refused to go along with it, and those families like the others featured in this novel, who fought for themselves.
Enter to win
My Mother's Secret is a story that you could share with your family (even older elementary school kids probably), especially since the emphasis isn't on death but on the struggle and the contribution of one brave woman. Enter to win a copy by leaving a comment telling me if there's a holocaust story you've watched or read that has left a lasting impact. I love both the Book Thief (book and movie) and the movie Life is Beautiful.
Log your comment in the widget below and see how you can earn more entries as well.
Check out our current giveaways. Subscribe to our feed. Follow us @5M4B on Twitter or on Facebook.