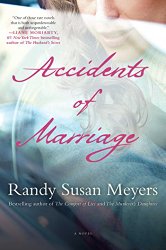 Accidents of Marriage
opens with a glass broken, kicked across the floor in a moment of childish pique, and it foreshadows a story of a family walking on eggshells. Maddy is a social worker who meets regularly with a group of abused women, yet she rationalizes her own husband's rages. She fell in love, years ago, with Ben, a passionate lawyer who works for the poor and disenfranchised, yet who has progressively given in to his anger as time passed. Maddy copes by keeping bags of pills squirreled away throughout the house and alternatively giving in to Ben in order to keep the peace and standing up to him to protect their 3 children; Emma, 15, Gracie, 9, and Caleb, 8.
This fragile peace is shattered one rainy day when Ben, once again giving in to his temper, manages to involve them both in a car accident that leaves Maddy in a coma, fighting for her life, leaving everyone unsure whether she will recover. Maddy's background is Jewish and Ben's is Catholic, and the children are left floundering, on their own, desperately searching for comfort without any real direction. And when she is finally out of hospital and facing a long and overwhelming recovery, the family realizes that reality has changed for them in ways they can't define yet and won't for years.
Accidents of Marriage
takes us deep into family life, and at times it's painful to read–the sordid quarrels, the incredible stress and pressure on the family–but brilliantly done. It's told from 3 points of view; Ben's, Maddy's, and Emma, their teenage daughter who is largely left to cope with younger siblings and running a house after her mother's injury. Author Randy Susan Meyers manages to make us feel compassion for all her characters, even those making bad choices. Like I said, sometimes it's disturbing and depressing, but this a book with characters that feel all too real, and it's not one that will be easily forgotten.
This isn't a book of easy answers. The accident forces everyone to face things that have long been ignored. Everyone has to look at Ben's rages: Ben himself, who is left shaken by the consequences of his temper; Maddy, who has to decide if she can trust him; Emma, who's caught in the middle; and even both sets of grandparents, all of whom bring their own issues to the table.
Accidents of Marriage
is an excellent book. It's well-written, with characters who are absolutely real and who sneak into your own life a bit too. It puts a marriage under a microscope, and I'm sure most of us will recognize bits of ourselves there if we're honest. It ends on a realistic note but I found hope there too.
I highly recommend it, and I'm thrilled to announce one of you can win a copy of your own. Follow the directions below.
Find out more at the TLC Book Tour page.
Enter to win
Start off by leaving a comment and marking it done in the widget. You can also earn some additional entries.