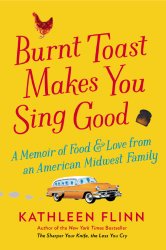 "I don't have to tell you I love you. I fed you pancakes," said the grandmother of author Kathleen Flinn, and that philosophy sums up much of this tribute to the author's family, a hardy collection of no-nonsense hard-working people who express their love through food as often as not. There's her maternal grandfather, who cooked a large pot of chili for all the neighbourhood kids every Saturday, seasoned with chilies and made with beans that he grew himself every summer and carefully dried for the long winter months, and her maternal grandmother, who spent a week cooking nonstop for the family at a lake cabin, making cinnamon rolls and vats of coleslaw and baked beans and pulled pork, and then told her daughter it was the best vacation she'd ever had.
Burnt Toast Makes You Sing Good
offer a delightful look at 3 generations of family, growing up in the Depression, moving out to California and then moving back, trying their hands at clowning or streaking, vacations in Minnesota and vacations in Florida, all the ins and outs of life in America over the span of most of the 20th century. Kathleen Flinn grew up to be a professional chef and chronicled her adventures in The Sharper Your Knife, The Less You Cry and The Kitchen Counter Cooking School (linked to my review). But in her third book, she returns to look at her roots, at the people who made and shaped her, and at their own influences, joys and sorrows. Additionally, each chapter ends with a recipe to something referenced in that chapter, from pan-fried mushrooms that her terminally-ill aunt sat up and ate, to the chili that her grandfather fed the neighbour kids every Saturday. And through it all, she shows us again and again the connection between food and community, and the love that shines through the simple acts of feeding a family.
One of my favorite stories came in the first chapter. Her parents, married in the 50s, tasted an incredible new food called pizza in a local restaurant. So they were excited to discover a pizza kit from Chef Boyardee in the local grocery store. The box contained "all the ingredients for a Sicilian-style pizza" which meant "a package of add-water-only pizza dough, a small can of tomato sauce, and a packet of dried Parmesan cheese…They found it lacking compared to the one they'd had at the pizza parlour." Yet they invited family over to share this new experience. "What's this called again? Pizza?" said the author's Uncle Bob. "I can't see this catching on." The recipe for this chapter is Uncle Clarence's Oven-Fried Chicken. (p 12-13)
There are stories of the time Flinn's parents bought 250 chicks and soon found themselves overwhelmed. Stories of vacations spent fishing on a lake, or the time her parents went on vacation to Florida and bought a vacation home on a whim, even though they had to rent out most of it to make the mortgage payments. There's her older brother streaking through the movie theatre in 1974, her older sister working as a clown, and other family tales, all rendered with affection and plenty of stories of food. There's the time, desperate for company, she joins a church choir. "'Where'd you get that voice?' she (the choir director) asked, sitting on the bench behind the church organ. 'You sing very well, my dear.' I answered as honestly as I could. 'My grandmother told me as a kid that if I ate burnt toast, I'd be able to sing good.' 'Well I guess she was right," Grace said, sitting up to organize some sheet music." (p 231)
Burnt Toast Makes You Sing Good
is an enjoyable look at the bonds that tie us to family, and the important role that food plays in that. I have my own versions of these stories–the scones and roasts and hot cross buns made by my British mother, the German recipes she attempted in order to delight my Mennonite-raised father. This book offers something for us all, and the recipes just add to the charm. I haven't tried any yet, but I plan to do so soon.
Kathleen Flinn's ancestors raised her to be tough, passionate, and endlessly optimistic–and to love good food cooked well and with love. And her loving memoir to her family is something that we can all relate to and enjoy.
Enter to Win
One of you (U.S. only) can win a copy of the book. Please follow the instructions below to earn one or more entries, starting off by leaving a comment sharing your favorite family dinner.