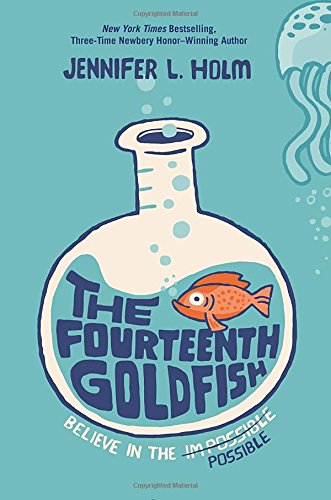 My 10-year-old son and I read The Fourteenth Goldfish aloud together. We often read books aloud, but it can be a slow-going process. The more we like them, the faster we finish, because one or both of us will say "Let's read one more chapter" in spite of other interests and reading our own books. Sometimes it was him suggesting another chapter, other times it was me.
We both equally enjoyed this book. Why?
Sciencey stuff, in this case facts about scientists and researches (This won't surprise fans of her Squish graphic novels)
heartfelt family issues (which won't surprise fans of her works such as Turtle in Paradise) such as adult parent/child relationships and a "broken" family (specifically I loved that in the divorced family the parents still got along well and even hung out and co-parented, which perfectly describes my own family of origin)
school issues like the changes of friends that inevitably occur during adolescence as one is figuring out one's interests and talents
humor – there's nothing like a cast of quirky characters to give us a smile around here
The plot is a little quirky too. Eleven-year-old Ellie lives with her mom, an unconventional drama teacher. One day her mom shows up with a 13-year-old boy, some sort of relative. Well, it turns out that it's her grandfather, who appears to have finally perfected his anti-aging formula! Ellie has to help him navigate middle school and get his research specimen back from the lab where he used to work.