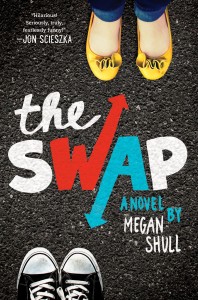 Ellie is a 7th grade girl. Her "best friend" won't stop badmouthing her. She's not sure how she's going to get through this year. When she overhears Sassy's hurtful words when they're changing for gym, she runs out and ends up in the nurse's office.
Jack is an 8th grade boy, also known as The Prince. He's polite, super cute, and a good athlete. But that day, he can't take a kid's mouthing off, and he hits him. Before going to the principal, he ends up in the nurse's office.
Somehow before they get up to leave, they've swapped bodies! Maybe that new nurse has something to do with it. They've just got to get through the weekend, then they'll make her switch them back. They both agree on the plan: stay in your room as much as possible.
But what fun would that be? Ellie (as Jack) plays video games with the guys, works out with Jack's brothers, and even endured a talking-to from his strict father.
Jack (as Ellie) goes on a mother-daughter shopping trip, aces soccer try-outs, and attends a girls' sleepover.
It sounds cheesy, but the switch helps them understand themselves better and see how the other half lives. It wasn't cheesy at all. I laughed and even teared up.
There is talk about periods and boobs and Jack's "morning tent pole," so I would recommend it to the older end of the recommended age group, probably 6th grade and up, but it's a book that boys and girls alike would appreciate, both the humor and the struggles that they each face (friend problems, the absence of a parent, expectations and insecurities about their sport).
The Swap by Megan Shull did start a little slow. The first 75 pages of this 350 page book were the set up and background of each of the characters. It was needed but wasn't nearly as page-turning as the story became once the swap took place. The rest was so good, and the ending so satisfying that it's still a book that I highly recommend.