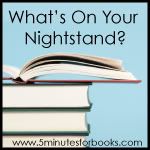 I can't really believe that it's August, not to mention the last few days of August! It's been a whirlwind summer here for me, but I've gotten in some good reading, and I think that having a normal schedule will actually help me read more. Maybe I'll be so relieved that I'll flop down on the sofa and not read anything.
I do have to say that keeping track of my books in Goodreads has really helped me out as far as planning my reading and reviewing. It was a reading goal I made for 2014 and it's stuck nicely!
Now I'd like to hear from you. Please tell me what you are reading now or this next month, or tell me about those books you've recently finished. Then just link it up below.
Check out our current giveaways. Subscribe to our feed. Follow us @5M4B on Twitter or on Facebook.