Find out more about Guest Contributor author Mike Perry at his website Sneezing Cow. Stay tuned for Jennifer's review and giveaway on Monday.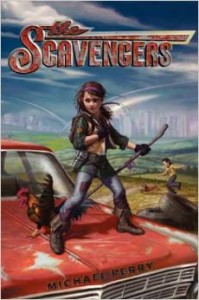 If you turn to the very last printed page of my latest book, The Scavengers, you will find the following one-line acknowledgment:
Mom, for teaching me to read and filling my world with books.

Now then: Of course we thank our moms. I would thank Mom even if she had raised me on gas station beef sticks and poker. There are a million ways to be a good mom. But in my case, Mom's attention to books and reading altered the course of my life to the very moment of my typing these words.
I grew up baling hay and cleaning calf pens on a rural Wisconsin dairy farm. I worked for five summers as a ranch hand in Wyoming. I have a nursing degree. When I talk out loud, I'm not very good at grammar. And yet the first thing I did this morning (after greeting my wife and daughters and feeding our chickens) was climb the stairs to my little room above the garage and commence writing, because for over two decades now, that's how I've paid the rent (or—these days—the mortgage and the orthodontist). No one saw this coming. Not even Mom. But working backwards, it's clear she's the one who set the tumblers in motion.
MOM COULDN'T HELP IT

In Coop: A Family, A Farm, and the Pursuit of One Good Egg (linked to Carrie's 5-Star Review), I described my Mom's reading habits:

Mom is a compulsive reader. She reads for pleasure, she reads to edify herself, but more often than not, she reads because she can't help it. I understand. The minute I find myself sitting still, I start rummaging around for printed material. Pretty much anything will do—a book or magazine, sure. But also cereal boxes, the weekly shopper, the underside of the Kleenex box, or the back of the toothpaste tube. (I can recite by heart: "Crest has been shown to be an effective decay preventive dentifrice that can be of significant value when used in a conscientiously applied program of oral hygiene and regular professional care."

The compulsion to read may have been passed down genetically, but my love for the act of reading was passed on by example:

As a toddler, whenever I saw Mom reading, I bugged her to read to me. And she did. Every day. One day as I pestered her with my copy of Winnie-the-Pooh while she was settled with a book of her own, Mom set down a rule: She would read one chapter of Winnie-the-Pooh aloud, but then I had to sit there quietly holding my book while Mom read a chapter of her book to herself. It worked, and became standard procedure. It took me years to recognize the power of this gift: Mom taught me to love the idea of sitting quietly with a book long before I could make out the words on the page.

HOOKED ON OLD-SCHOOL PHONICS

When I began to reach across the page and use my grubby little finger to point out certain letters of the alphabet, Mom decided that although school was still a few years away, I was ready to learn to read. She sent away (some of the elders among us remember a time when we used to "send away" for things) for a phonics book sold through a Chicago newspaper. She then took me through it, page by page, day after day, until at the age of four, I could read on my own. (I was not infallible. My father would want me to tell you of the day I pointed at the tailgate of a farm truck and, puffing out my proud little over-achieving chest, said, "F-O-R-D…TRUCK!")

THE HOUSE OF BOOKS

Ours was a large family on a remote farm. There was no money for a lot of extra doo-dads. Our religion precluded us from owning television or listening to the radio. But every week Mom loaded us up and hauled us nine miles to the nearest small-town library, where we exchanged our expired armloads for fresh armloads. Back on the farm, there were book stacks everywhere. Even when we were all outside doing our farm chores, or gone to Sunday morning meeting, the air in the silent farmhouse was alive with the energy of words awaiting readers.

IDLE HANDS ARE PERFECT FOR HOLDING BOOKS

We were expected to pitch in on the farm. Every day we had chores and responsibilities. And yet, when Mom peeked out on the porch and saw me deep into my third book of the day, she weighed what I might be learning (even if it was Tarzan of the Apes #352) against what would get done eventually, and let me be. As a result, by the time I was a teenager I had traveled all around the world without leaving that porch, each book held in my hands like a steering wheel.

THANKS, MOM

I didn't really get serious about writing until I was out of college and working as a nurse. But when I did fall in love with word-herding to the point of obsession, it was the flowering of a seed planted by Mom way back in those farmhouse days. She planted in me a hunger to read stories, but also to tell stories. She didn't manage to teach me perfect grammar, but she taught me to write what I heard. She taught me that if you can't find the right word, keep looking. It's out there somewhere. In a book.

Now I've been writing for nearly 25 years. The Scavengers is my ninth or fourteenth book—depending on who's counting or how. And none of it happens without Mom. So I wanted to thank her in The Scavengers acknowledgments, but I also wanted to thank her in the story. When Maggie's mother teaches her the alphabet by pointing out Vs and Ws in tree branches or pressing an acorn cap into the mud to create an O, that is my Mom, patiently pointing out letters to little me in that phonics book all those years ago. When Maggie revels in a moment spent sitting beside her mother and sharing a book, the quiet joy she feels is a direct memory of my own. When Maggie's mother shares her memories of bookcases filled with books and all the time in the world to read them, that is me recalling the world my mother gave me.
In the end, perhaps no one can thank my Mom more appropriately than Maggie herself:
One day when I asked Ma to read Little House on the Prairie to me for probably the forty-seventh time, she reached deep into her pack and drew out a rectangular object wrapped in cloth, which she carefully unwrapped until I saw it was another book. On the cover was the silhouette of a lady's head. Ma ran her finger along the spine, where I read the title: The Complete Poems of Emily Dickinson. Ma sat down, pulled me close, and murmured, "Now you're going to learn why I love to read."
It sounded like she meant it more as a wish and a hope than a command.
Check out our current giveaways. Subscribe to our feed. Follow us @5M4B on Twitter or on Facebook.