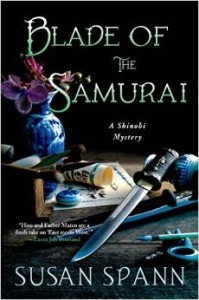 Hiro Hattori is a Shinobi, a member of a secret samurai assassin clan hired to protect Portugese priest Father Mateo in sixteenth century Japan. When Hiro hears someone sneaking into their home late one night, he prepares to pounce, only to discover it is fellow Shinobi Kazu panicking as his boss at the shogunate has been murdered in the second Shinobi Mystery Blade of the Samurai by Susan Spann.
Hiro hides Kazu before urging him to flee Kyoto. The next morning, he is awakened by a messenger summoning both him and Father Mateo to the shogunate to investigate the murder. On the face of it, they are called in because the shogun has heard of their discreet success in an investigation the previous year, but truly – with Kazu having no family and Hiro a known friend – Hiro is being set up to take the retribution for the murder if Kazu isn't found.
The view into the culture of Japan and the strictures it imposes are fascinating. That alone almost makes the book worth reading, but there is so much more to it. Though the book has some aspects that are somewhat formulaic, Hiro is a hero to root for, and Father Mateo is an moralistic Jesuit priest at his best.
As Lord Oda is coming to Kyoto with apparent designs on the shogunate, Hiro and Father Mateo have just three days to present the killer. With plenty of intrigue and additional plots in play, the book keeps moving. It is another of those where I promise that I'm just going to finish the chapter then put it down, only to find myself starting another chapter to see what happens next.
Kazu was unable to leave Kyoto, but he refuses to assist Hiro in answering the simple question of where he was on the night of the murder – and why his dagger was left on his desk and use to kill his superior. Hiro vacillates between believing that Kazu is innocent and not, and the reader travels that journey, as well. There are plenty of suspects from the misogynistic cousin of the shogun's mistress to his wife to the stable boy and more. The Japanese code of honor many must follow presents plenty of hurdles, yet Hiro somehow manages to overcome them.
There is plenty of Japanese terminology thrown into the book, which is somewhat confusing at first. Spann does an excellent job of defining – implicitly or explicitly – most terms, which makes it far more approachable. Once you're into the book, the terminology flows more easily and it isn't as jarring since you're familiar with more of it. The terminology isn't there just to be fancy. It fits within the book and helps create a better sense of life and restrictions in sixteenth century Japan.
Though this is the second book in the series, it stood well on its own. There are just a few references to the case from the previous year, and none have an impact on the plot or the reader's understanding of this book. It was a fun and fast paced mystery, and that alone has me ready to pick up the first book in the series, Claws of the Cat.
Written by Michelle who has a love of reading about history but isn't sure she'd deal well with all the realities of medieval life. See the creature comforts she enjoys via her blog Honest & Truly! and follow along with her on Twitter where she is also @HonestAndTruly.