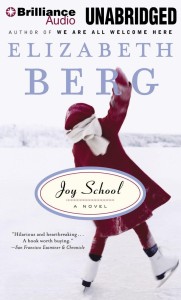 I've read Elizabeth Berg's fiction for adults and a writing book she wrote. I enjoy her voice and her characters. Brilliance audio released her novel Joy School on audiobook late last year. I didn't realize it was a Young Adult book until I started listening, but I feel like I enjoyed the sort of coming-of-age story as much or more as the target audience would.
Fourteen-year-old Katie Nash is an interesting character. Her dad is in the military, so she's recently moved and isn't sure where she fits in at school. Her uncertainties and desire to find her niche come through loud and clear. Her uncertainties about herself are amplified, because her mother has passed away, and so there are things that she has trouble communicating with her father, who can be distant and even a bit mean.
All of sudden her life begins to change. She decides to make her own kind of joy school. She finds a couple of friends who are both different from her and from each other. She develops an unlikely friendship with a man in his 20s whom she immediately develops a crush on. It's the impossibility of her fantasies becoming reality that ultimately help her take the next step in maturity.
One odd thing about this book is the timeframe. I'm not sure if the target audience would connect with the setting of the 1960s (I think. It isn't really made clear exactly when it is). It's not written like historical fiction, but rather almost as if it were written during that actual time, which is a different style of writing.
NOTES ON THE AUDIOBOOK
Natalie Ross read the book. She didn't sound like a young teen, however she did a great job of capturing that earnest self-searching tone that brings Katie's story to life. You can hear a sample on Brilliance Audio's page.