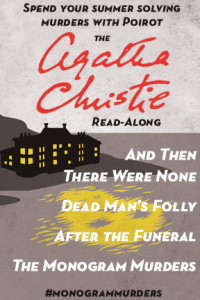 The second part of Book Club Girl's Summer of Christie Read-Along is Dead Man's Folly
, which also premiered on PBS last week. If you missed it, as I did, you can watch it online at www.pbs.org. I'm running late on this; again I read the book in ample time, but I wanted to watch the film version as well. Unusually for me, I loved the film adaptation. I tend to be the type of person who is always squawking about how much better the book is (because it's TRUE!), but in this case, I thoroughly enjoyed the film and even liked some aspects better. I really enjoyed seeing it. While the Hercule Poirot of my imagination is a little shorter and rounder with larger moustaches, I thought actor David Suchet did such a terrific job that I am quite happily replacing my mental Poirot with something much closer to him. His mincing little steps down the paths were marvelously in character.
The following questions assume that you've both read the book and watched the film. There are spoilers, so if you're not caught up and you want to be, you might wait to read any further. As always, feel free to play along. I'd love to hear if you're reading and enjoying this Summer of Christie.
Both Ariadne and Mrs. Folliat hint to Poirot of an evil lurking at Nasse House. Why do you think Poirot cared to listen to the warnings, instead of chalking it up to empty suspicions?




Although Poirot makes a big fuss about using science and his brain, he always pays a lot of attention to hints and intuitions, because he believes they are signs of things wrong that are sensed but not recognized. He also respects Adiadne's intuitions very much, and relies on her. (Aside: I find it fascinating when mystery writers create a mystery writer in their own books. Whenever I read of Ariadne Oliver, I also think of Dorothy Sayer's Harriet Vane.)

 

Throughout Poirot's investigation he was so close to uncovering the truth. What were some of the clues he couldn't decipher along the way?


He couldn't figure out the motive for Marlene's death, and therefore none of the rest of it made sense. It wasn't until he connected her to her grandfather that the old man's cryptic remark (about there always being Folliats at Nasse) began to show a darker reality.

The Chief Constable, Inspector Bland and Ariadne all doubted if Poirot could solve this mystery towards the end. Do you think Poirot himself was starting to give up?


He seems to have, esp in the book, where it's very clear he went home stumped. However, in the end he came through. I don't believe he would have given up, but this case was hard to crack.
Do you think Mrs. Folliat should be held legally accountable for her son's actions? Does her lack of action make her guilty?
Hmmm. Perhaps. I think she may have found out about the initial murder quite a bit after the fact, but she should definitely have come forward after Hattie Stubbs' (the second) disappearance. I will say that I thought her character was cast very well, but was much more developed in the book, and therefore she was a much more sympathetic character in the book.
In the book, Sir George (a.k.a. James Folliat) was not overly painted as an evil, murderous person; however, in the TV episode his sinister traits were apparent towards the end. Do you think Sir George was inherently capable of performing multiple murders? Or, do you think he was caught in a spiral of deceit that he would stop at nothing to protect?
It's rather a moot point. Even if he was "caught in a spiral of deceit" as you say, that spiral began with the murder of his wife. So yes, he was an evil murderous person.

Lady Stubbs was described as "subhuman" from the beginning. Did you suspect her of being anything but what she claimed to be?


Yes, because I thought it odd that different people had such different reads on her character, and because she seemed more bratty than "subnormal" (what a horrible term!).

Supporting character development played a big role in the novel and was only touched upon in the TV version. Do you think the relationship between architect Michael and Mr. and Mrs. Legge was pivotal to the plot or served as background filler?


Obviously the time constraints of television make it necessary to cut things out of the book's plot (which is why books are always better); however, they played enough of a role. Poirot's discovery of the charm from Mrs. Legge's bracelet in the Folly definitely cast suspicion there for a bit. Michael Wayward was a great minor character in the book and was reduced to almost nothing in the film; again probably necessary but a definite loss.
There were some major plot differences between the TV rendering and Christie's book. What were they? How did you feel about them?
The biggest difference that I noted was the lack of foreigners from the nearby youth hostel. They have a major role in the book, playing up the suspicion of outsiders (of which group of course Poirot himself belongs) and xenophobia common in rural England of the time, and make Hattie Stubbs' method of disappearance that much more believable. I feel they could have kept them in. The other difference that I noted was that Ariadne Oliver was much less scatty a character. I loved her in the film, but I love her more in the books. Of course Etienne de Sousa was played very differently as well, with the ring planted on him. I didn't mind the addition–I expect that the foreign cousin would have been arrested almost as a matter of course, although it did make George seem much more clever and scheming.