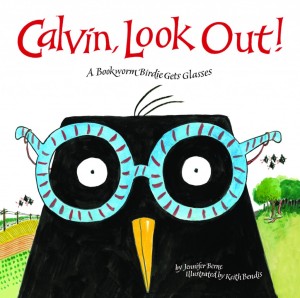 A few years ago, I became enamored with a little starling named Calvin, a book-loving bird who skipped flying lessons in favor of trips to the library and more time immersed in a book. Jennifer Berne's Calvin Can't Fly: The Story of a Bookworm Birdie became a much loved read aloud in my preschool classroom, and it remains a favorite of my own children to this day. Imagine my excitement when I saw that Berne had collaborated with illustrator Keith Bendis once again to bring a new Calvin story to the shelves. Calvin, Look Out! A Bookworm Birdie Gets Glasses gives the gist of the book's tale right there in the title, but be prepared for a little silly adventure in the process, of course.
When Calvin seems to be having some trouble making out the words on the pages of books and tripping over things at the library, the kind, and appropriately named librarian, Mrs. Readalot, suggests that he may be farsighted. As Calvin is wont to do, his first inclination is to do a little research on the topic, and when he learns that he may just need some eyeglasses to fix the problem, he rushes right off to the eye doctor, who does confirm his suspicion. When he walks out with a spiffy new pair of glasses, he's feeling proud and confident… until some of his starling cousins begin to tease him. When he walks off from the laughing flock, he walks right into a wacky situation like only Calvin can. Using his book-smarts, Calvin just might find a way to get a message to his huge starling family. They've helped him in times of trouble before, so he hopes they'll be able to do it again.
There really is something endearing about this little starling guy– for me and my children, all proud bookworms, he is delightful and lovable. My daughter especially was excited to read this book to her younger brother, telling him, "I think I'll really understand this one, because I had to get glasses, too!" Berne has scattered several literary and historical references that provide tidbits of new information and make for fun asides to discuss while you're reading with young children, too. Just as before, Calvin remains true to himself, even in tough times, and his confidence and passion for reading are two admirable traits in a beloved children's literature character.