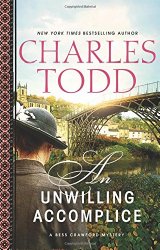 When WWI-era nurse Bess Crawford is specifically requested by a wounded soldier to attend his reception with the King, she is surprised, as she doesn't remember the man at all. However, duty calls, and Bess obediently complies. The wounded man is being awarded for bravery, but his injuries necessitate a nursing sister's care and that lasts during an evening at nearby hotel. In the morning, an orderly comes to escort him to his train, and he's to be returned to the Front. But sometime during the night, he disappears. As a result, Bess' own loyalty is called into question, and she faces being fired in disgrace as she is viewed as complicit in his escape.
Bess is not one to take this lying down, and she goes off to search for the AWOL soldier. Things gets worse–a murder's been committed, and an eyewitness has pegged him to the crime. Bess collects Simon, her erstwhile protector and old family friend, and together they scour the countryside, finding several people whose lives raise more questions than answers, and who all seem to have something to hide. The hunt centers on 3 small towns whose geography has kept them isolated for centuries, but the locals have secrets they are loathe to share with outsiders. Luckily Simon has a car and a knack for turning up when Bess is in trouble, and his access to military records proves invaluable in their investigation. Bess knows that if she can't find Sergeant Wilkins, her own career and character will always have a stain on them, but of course she gets more than she's bargained for.
An Unwilling Accomplice
is the latest in the Bess Crawford series and I think it's the best yet. I love the character of Bess, and I think author Charles Todd has done a great job creating her–she rings true to the time period, with her practical down-to-earth common sense and strong sense of duty. (Actually, she reminds me a lot of my mother, who was also a British nursing sister albeit several years later). The problem with the books has been finding ways to keep her away from the front and solving murders, but this one is very well done indeed and never feels forced in the way a couple of previous books have. Additionally, something I love about this series (as well as the author's Ian Rutledge series, set in a similar time period) is the way it shows how the war affected people in various ways, how it broke down social barriers and left people searching to know just where they fit in, and also allowing people to change their lives in a way that wouldn't have been possible to previous generations.
We always wonder a bit about the relationship between Bess and Simon (he's very close to her father and in many ways is like an older brother, but we always think things might develop anyway), but this episode does little or nothing to move their relationship along. They have a deep affection for each other, but in some of the previous books you've felt things might be moving in one direction or another. I should mention that even if you haven't read the previous 5, you won't have any problems starting your introduction to the world of Bess with this one.
Giveaway
And you can! Enter below to win a copy of An Unwilling Accomplice
. I highly recommend this series, and think anyone who likes mysteries or historical fiction (or both!) will thoroughly enjoy it.
Start off by answering the question: Have you read the Bess Crawford novels? If so, which was your favorite? If not, what appeals to you?