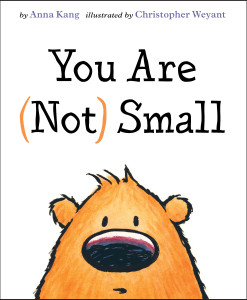 Anna Kang's new picture book You Are (Not) Small introduces young children to the idea that when it comes to size, everything is relative. Without any reference point, can you tell if that fuzzy guy on the cover is small, or not?
Well, one of those fuzzy, bear-like creatures first appears on the title page, but with the first page turn, a larger furry foot is seen entering the scene. This second guy is much bigger than the first, but when he pointedly tells him, "You are small," the first guy responds with a decisive, "I am not small. You are big." They each proceed to gather their similarly-sized pals to emphasize the other's difference in size. Their interactions become quite heated, as indicated by the print that gets larger, bolder, and accompanied by ever more exclamation points. It takes the appearance of a few more creatures, different in both sizes and hues from the original two, to show that small and big aren't always consistent terms.
Illustrations are always a key component of a picture book, and Christopher Weyant (best known for his cartoons in The New Yorker) manages to convey quite a bit of expression in the very simple faces of the characters! Especially linger on the page with the arrival of the final characters- with the smallest among them parachuting in around hairy legs and feet that take up one-third of the pages– when I read this with a friend's toddler daughter, she couldn't stop giggling at this illustration.
There's much to like about this simple storybook, from the adorable watercolor illustrations to the subtle message that everyone can be both big and small, depending on the situation. I was reminded of the times when my young children first came to realize that even though I was their mom, that I, too, was a child to someone else! How could that be?
The debut picture book from this husband and wife team is a total hit, and they are reportedly at work on a sequel. I'll be looking forward to sharing it with the young children in my life!