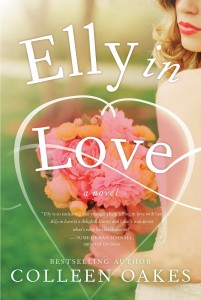 Colleen Oaks has brought Elly Jordan on the next step of her journey in Elly in Love, the second of three books about the chubby florist who owns the premier shop in St Louis. In this iteration, Elly has progressed in her relationship with Keith, the sandwich maker from the shop down the street.
As with everything in Elly's life, however, the progression is slow and sometimes awkward. Even kissing after two months of dating is not completely natural, and Elly has never seen where Keith lives. On top of her challenges with her love life, Elly still has to manage her strong-willed high school senior of an assistant who wants nothing more than to open a second store that caters to the rich and powerful business side of St Louis. When her heretofore unknown brother drops into her life and BlissBride reality show calls to inquire about using her for an unnamed celebrity, Elly's world moves off kilter.
I get Elly. I get that she suffers from confidence issues after having witnessed her ex-husband cheating on her in the first book and feeling that she's too fat to be worth anything. At the same time, the book's fascination with Elly's weight is my main critique of it. It is made clear that others view her as curvy but most definitely not fat, yet it feels as though a page rarely goes by where Elly doesn't refer to herself as chubby or unattractive in some way. There isn't a moral to the story where Elly learns that she's loveable and changes her self image, and the constant focus on her weight detracts from all the other positive aspects of the book.
Though you don't have to have read the first book – Elly in Bloom – it certainly makes many of the references in Elly in Love much more clear. It has clearly built on the first book in the series, as I assume the third to be released book (Elly Inspired) will, as well. You know that Elly's mom, who is deceased in the first book, never told Elly much about her father other than intimating that it was a one night stand. Finally, we learn more about her father via the half-brother she meets when he appears on her doorway, frightening her nearly to death. As with the previous book, Elly has a challenge in her professional life as well as those in her personal life.
Last time, she had to provide flowers for an over the top wedding that turned out to be her ex-husband's wedding to his mistress. This time around, she is chosen to be the floral vendor for BlissBride and has to manage a celebrity's (and the producer's) neuroses to create the perfect wedding bigger than any she's ever done before.
The book moves quickly, and once you get past the nonstop focus on Elly (and her brother, for that matter) being chubby and therefore in their minds losers, the book is a warm look at the chosen family with which Elly has surrounded herself. The characters are entertaining and quick witted, and you want to root for all of them, even as they sometimes make choices that make you cringe.
Though the book is over 350 pages, it reads much faster than that. It doesn't take much effort to get involved in the story, and it's light enough that you can put it down and pick it up again without fearing that you cannot find your place within the overall story, though it contains varied plot lines. And through it all, you cross your fingers and hope that Elly is able to regain the peace that she so briefly enjoyed in her perfect life before upheaval entered it once again.
Written by Michelle who has absolutely no interest in ever appearing on a reality show. What she shares on her blog Honest & Truly! is as close as she'll ever come. Check it out, and follow along with her on Twitter where she is also @HonestAndTruly.