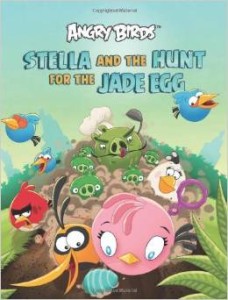 It doesn't matter how old you are, you know about (and probably love) Angry Birds. For the younger set, there is a cute new picture book out, Angry Birds: Stella and the Hunt for the Jade Egg. The book is perfect for reading aloud to little kids, while it is cute enough and has few enough words on the page to appeal to new readers, as well.
The book opens with a detailed description of each of the birds in the book – and the pigs. It gives their name with an illustration and some information about their personality so that it's easy to transition from birds and their expertise in the app to characters in the book.
In Stella and the Hunt for the Jade Egg, Mathilda's jade egg from her necklace has gone missing. Red is the leader of the birds, and he contemptuously dismisses the "baby birds" and orders them out of the way as he goes searching for the missing amulet of power. Stella has no intentions of listening to his exhortations to simply go back to blowing her bubbles and sets off with Bubbles to find the jade egg themselves.
Stella and Bubbles discover that it isn't so difficult to fool some of the pigs and get into Pig City, but the further they go, the more of a challenge they discover. Stella and Bubbles have to steal the egg back and escape the city, which they soon find is much harder than they thought it would be. They work together to escape, of course – because it wouldn't be an Angry Birds book if they didn't win and recapture their egg.
The illustrations in this cute story about not letting your size or age deter you from using your talents are adorable. The birds exhibit so much personality in them, and you can almost follow along with the story without reading the words. This would be a lovely book to read aloud to children and spend time just enjoying the pictures. It isn't overly complex, which is perfect for preschoolers – they will get a kick out of their favorite characters coming off the screen, and hopefully it will also help encourage a love of books to come.
Written by Michelle whose children have played and beaten just about every level of Angry Birds on their grandfather's iPad. See what other mischief they get into (and how their grandparents spoil them) on her blog Honest & Truly! and follow along with her on Twitter where she is also @HonestAndTruly.