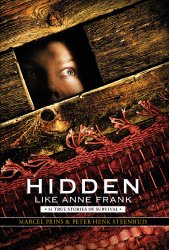 Though Anne Frank's personal story is likely the best known tale of hiding from the Nazis during World War II, hers was one of many. Too many to even imagine. Marcel Prins and Peter Henk Steenhuis have worked to gather and share more accounts from Jewish people who survived this terrible time hiding in the Netherlands, which was occupied by the Germans during the war. Hidden Like Anne Frank: 14 True Stories of Survival is a challenging read, filled with emotion and horror, but with reminders of human kindness and bravery.
In the foreword, it is stated that about 28,000 Jews went into hiding in the Netherlands, with about 16,000 ultimately surviving, while the other roughly 12,000 were caught or betrayed. The stories included in this collection tell of the realities of trying to find safe places to hide, which was difficult and often needed to be done again and again. Families were separated, some to reunite when liberation came, others to never meet again. Some survivors had been "deported" and taken away by the German army, only to find ways to escape, filled with horror by what they had witnessed and what they knew to be their left-behind family members' fates. Mistreatment, hunger, and constant fear were part of many experiences relayed in these stories. While none of the stories are particularly graphic in description, they are still gut-wrenching to read, especially knowing that most of the survivors were just young children at the time of the war.
My thirteen-year-old son read this book as soon as he saw it on my review shelf, and he opted to focus on it for a book review assignment for school. Just as I was, he was affected by the gravity of the stories in this book, though we both strongly recommend it for older middle grade and YA readers for the importance of these stories remain. Here are some of his thoughts:
Do you want to learn more about World War II, and the forced hiding of many, and what it was like? Well, Hidden Like Anne Frank by Marcel Prins and Peter Henk Steenhuisis the book for you! It contains fourteen true stories of Jews who had to hide during the war. I recommend this book to those who want to learn more about World War II and the conditions of hiding for extended periods of time.

The writers carefully considered their audience when they were deciding which stories to put into the book. They use vocabulary that is easy to understand, because they considered younger audiences reading the book, such as children 9 and up, and they wouldn't want to have to keep a dictionary next to them. They include pictures to capture reader's attention, and they use stories that make you want to keep reading.

The writers keep these stories emotional by not leaving out any details to the story, because this concept of mass genocide due to religion is very emotional. The writers use pictures before and after the war. They also include before and after situations of the families affected.

They include very appropriate content for the audience. They tell the stories using language appropriate for young readers. They also don't use any inappropriate language, but there are some strong ideas in the book. In one story, a young girl named Bloeme Emden says, "Mary and Aad had found shelter for all of them, so we must have been betrayed by someone who knew the resistance group and the addresses." This shows the horror of the war, and the chances of being betrayed.

The way that the Jews were treated while they were being hidden by sympathetic families surprised me. I thought that they would be treated well, but some families mistreated them, and sometimes didn't even feed them. Readers who are looking for a somewhat dark, but gripping read can find it in Hidden Like Anne Frank.
Ultimately, though these individuals survived, none were the same after the experiences they had. Many never saw their parents again after liberation came to the Netherlands, and even for the ones who were somehow reunited, the bonds were not the same. The devastation suffered by Jewish families is indescribable, but these stories begin to paint a picture of one of the darkest periods of human history. This collection of stories needs to be read, out of respect for the families affected by the Holocaust and in honor of their courage and endurance.