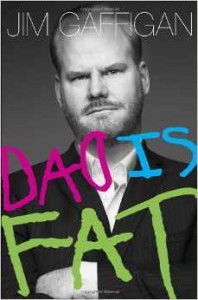 Comedian Jim Gaffigan is well known for his stand up comedy, and this is his first book. In it he shares the craziness that is his life with 5 children living in a two bedroom New York apartment. Given the hilarity that ensues with just my two children, it is obvious where he gets his material for Dad Is Fat, and he definitely has excellent nuggets mined for this book.
If you are a fan of Gaffigan's comedy routines, you can probably appreciate it more than those who don't know his material or delivery. The book reads like a stand up routine, and it is actually funnier (to me) read aloud than it is reading it myself. I feel like he didn't change his writing style to better accommodate the new medium he was utilizing, and that causes the book to suffer some. It is often short and somewhat abrupt in the sentence structure that works much better in the spoken word than it does in written form.
That said, the book contains many gems that parents will appreciate. Each chapter is a stand along reminder of some of the joys of parenting from "The Narcissist's Guide to Babies and Toddlers" to "No Such Thing as a Free Babysitter." Each chapter is short, as in the majority are maybe 2 pages long with some exceptions. The good news is this makes for a quick read and a great book for when you only have quick snippets of time available to read.
Much of the book is self-deprecating, which I can appreciate. Being a dad is so hard with all the changes in expectations over the last generation plus, and there's no way to get it all right, so poke fun at where you get it wrong. However, Gaffigan also spends a not insignificant amount of time talking about his own father and the lack of parenting skills he had, and much of the way he handles this makes me uncomfortable. It turns not funny but just plain mean in my eyes, and I ended up skimming much of that.
Overall, there is a ton to like in the book. I can absolutely appreciate his riff on sunscreen, especially as I am the parent who coats her children with the physical barrier sunscreen that isn't the spray on kind, such that it often seems like hours before we're done and I finally have the whiteness of the sunblock muted somewhat. Considering the discussions I have with the wee ones almost every weekend in church, I giggled my way through his description of the Catholic experience with children. And his description of children and sugar – particularly ice cream – rings true in my household. There is a lot of funny in there, and as I continued to read, I got more used to the delivery in the short staccato bursts Gaffigan tends to use.
Written by Michelle who only wishes she would write down every funny thing her children said or did, as she would be filthy rich. Or at least in a better mood. See what her wee ones are up to lately on her blog Honest & Truly! and follow along with her on Twitter where she is also @HonestAndTruly.