Do you want to know your purpose? Do you wonder why you feel restless when you seem to have everything you want? Could it be that God is pushing you to something more?
Jennie Allen's book and DVD study Restless doesn't necessarily answer the question if we have purpose but works to encourage us that God already has a purpose for each of us. She explores the areas of gifts, suffering, places, people, and passions.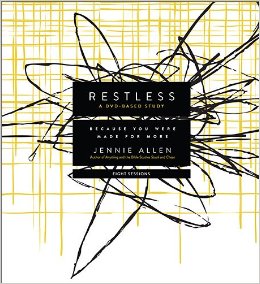 I am not familiar with her books or teaching, but I like her style. I think that she will particularly appeal to a younger generation.
I've done a lot of different types of Bible studies from many different teachers. This one is truly unique for the following reasons:
Short videos (less than 25 minutes) that pack a punch, and are beautifully filmed.
I think the reason they are short is to give more time for interaction. The questions in the study guide and even the videos encourage sharing with one another.
It's truly interactive. Instead of just using the book to guide discussion, the study kit includes question cards. I've been in groups where women just sit around and stare at their books, but I can see how using the conversation starters on the cards could get a great discussion going.
It feels as if we're on an earnest journey with Jennie. Yes, she teaches, but it has that definite millennial feel of connection, which many people of all ages have come to appreciate in a small group study.
If you are looking for a study to do this summer with a group of friends or are planning for the fall, I can recommend this one. If you have any questions, feel free to ask me in the comments.