The role of social media in our lives may have plenty of downfalls, but it cannot be denied that so much good can come out of its organized use. Starting today, watch for #WeNeedDiverseBooks in your feeds, a much-needed call for action in the world of children's literature. I've been happy to see how important this campaign is to so many of my own friends and connections.
As a preschool teacher, I worked hard to keep my classroom library stocked with quality children's books on a wide variety of topics, and I specifically tried my best to find ones that would resonate with my particular groups of students. Sometimes that meant always having a few titles about dinosaurs on hand, other times that had me in the foreign language section of the library looking for dual English/Korean language picture books. But one of the most basic factors I would regularly consider was the diversity of the cast of characters. Would my students be able to see characters like themselves and their loved ones in the story and illustrations?
Diversity for my students definitely included racial diversity, but it went beyond that as well to include native language, family makeup, and cultural backgrounds as well. What appeals to me the most is when the diversity itself isn't actually the point of the story, but that the diverse characters are simply who they are in the context of a great story. One of my favorite picture books that exemplifies this idea is All the World by Liz Garton Scanlon, with delightful illustrations by Marla Frazee. All types of families are represented in the community in this story, and skin tones vary from person to person to look more like the reality of my own children's community. Seriously, if you haven't read this beautiful, lyrical, Caldecott Honor-winning story, get your hands on a copy soon!
Starting today, #WeNeedDiverseBooks is calling on kidlit lovers to call for action from the people that get kids' books made. Let's work together to get more diversity in the pages of the books that our children adore. From the tumblr:
On May 1st at 1pm (EST), there will be a public call for action that will spread over 3 days. We're starting with a visual social media campaign using the hashtag #WeNeedDiverseBooks. We want people to tweet, Tumblr, Instagram, Facebook, blog, and post anywhere they can to help make the hashtag go viral.

On May 2nd, the second part of our campaign will roll out with a Twitter chat scheduled for 2pm (EST) using the same hashtag. Please use #WeNeedDiverseBooks at 2pm on May 2nd and share your thoughts on the issues with diversity in literature and why diversity matters to you.

On May 3rd, 2pm (EST), the third portion of our campaign will begin. There will be a Diversify Your Shelves initiative to encourage people to put their money where their mouth is and buy diverse books and take photos of them. Diversify Your Shelves is all about actively seeking out diverse literature in bookstores and libraries, and there will be some fantastic giveaways for people who participate in the campaign!
What do you think? Take to twitter/Facebook/tumblr/Instagram/blogs/whatever to share a photo that fills in the blank for you: "We need diverse books because ___________________________." Here's my simple, but passionate, sentiment: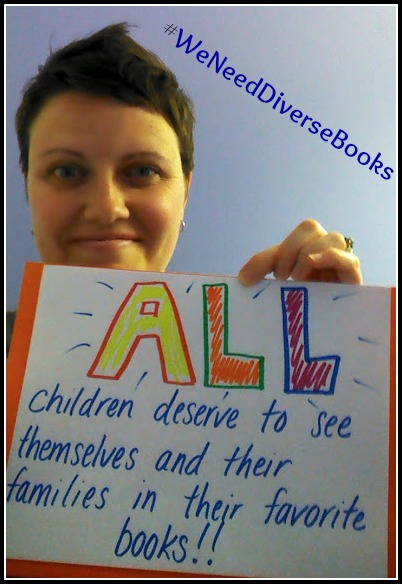 Related: When I went to the library with the intent of finding board books and picture books that featured people of color and characters with differing abilities, what was I able to find? Head over to my blog post to find out.
Check out our current giveaways. Subscribe to our feed. Follow us @5M4B on Twitter or on Facebook.