Before Nolie, the communications assistant at 5 Minutes for Mom, forwarded this book pitch to us over here at 5 Minutes for Books, she said that it sounded funny. I (Jennifer) invited her to request it if she wanted to review it, so here's her review.
Obviously you read blogs, you know since you are here. Well do you ever sit there and think to yourself that your kids must be a rare breed and you must be a horrible mother? I mean blogs can make you feel like a failure. With their picture perfect kids, pinterest worthy cooking and all rainbows and unicorns. Well hopefully you know that no body is perfect and people only share what they want you to see. Want proof? Then I highly suggest you read I Heart My LIttle A-Holes by Karen Alpert.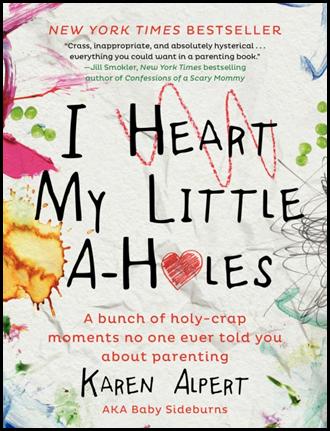 Karen Alpert loves her kids more than life itself, but like most kids (or at least those without Instagram filters), they're far from perfect. So, in 2010 she started her blog "Baby Sideburns" because, as she says, "I had a lot to vent about." In I Heart My Little A-Holes, Karen shares hilarious stories, lists, and deep thoughts on the pleasant and unpleasant surprises of rais­ing children.
I Heart My Little A-Holes had me laughing and crying. I was reading it in the car on our way home from Tobei's course graduation that he was on and I caught myself reading part after part to Tobei and my mom. I couldn't help it, every single page was just too good to not share. I found myself nodding along with a been there done that look on my face.
I Heart My Little A-Holes was a book that I could totally get and made me feel like we all have "those" days where we find ourselves locking ourselves in the bathroom with a glass of wine.
I will give you a few warnings though, Karen has the mouth of a sailor and you may want to wear a pair of depends or else read while only on the toilet. Your couch will thank you.
Nolie loves to share stories of her life, her boys and anything else on her mind over at her blog Nolie's Place.