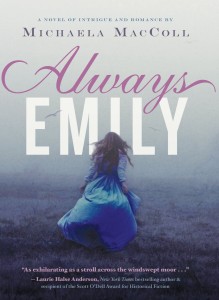 I have been a fan of Michaela MacColl for a while. I loved her first novel. Scroll all the way to the bottom to see links in the recommended posts to two of her other books I enjoyed.
Earlier this year, I decided to reread Wuthering Heights. It was interesting, but I stalled a bit. Reading Always Emily about the life of Emily and Charlotte Bronte in their teen years revived my interest.
Michaela MacColl writes historical fiction that will appeal to fans of the genre. I read it at times, but it's not my favorite genre, but I always enjoy her books. They are written for an older middle grade through young adult audience (probably 5th to 8th grade), but are so enjoyable for adults as well.
One doesn't have to be familiar with the Bronte sisters to enjoy this book. Other than having read Wuthering Heights and Jane Eyre, I didn't know much about them. This is a typical story of sibling rivalry, of rebellion, family drama and loss, with a little mystery and a tiny bit of romance thrown in. Who doesn't love that?
I can't recommend MacColl's novels highly enough, and this one is no exception.
This is linked up to Shannon Messenger's Marvelous Middle Grade Monday. Click through to read reviews of other titles for your middle grade (3rd – 6th) reader.