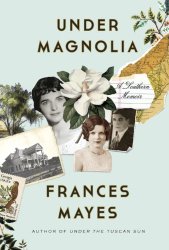 Frances Mayes is best known for her memoir Under the Tuscan Sun. In her latest work, she returns to her childhood, spent in the small town of Fitzgerald, Georgia, in a time when the family was still served by a black maid and Southern women were expected to behave in certain specific ways.
Under Magnolia: a Southern Memoir
opens when Mayes makes a stop in Mississippi in the middle of a book tour. Her housing arrangements have fallen through and she ends up staying in a bed and breakfast. Entering the bedroom, she says "a thousand memories suddenly free-fall through me." (xvi) This is the story of a journey home, a way to make peace with a childhood that often wasn't peaceful. She likens it to stepping onto a big X, unawares that a major change is about to occur. Before the weekend is up, she is calling her husband, Ed, in Italy, to tell him she wants to move to the American South–a place she couldn't wait to escape decades earlier.
When Mayes first published some pieces in a literary magazine in the 90s, her family's reaction was swift. Did she want to split the family? No. She shoved pieces in a folder titled "Under Magnolia." During her move back South, she found these reflections on her early life, as well childhood diaries and scrapbooks. From this she crafted this gorgeous memoir.
Her descriptions of summers spent on St. Simon's Island are magical. She is watched over by Willie Bell, the family's maid, and she accurately describes the mind-set of her time and place when she explains that it didn't seem at all odd. She writes of watching first her grandmother and then her father die, of seeing these strong, willful, tyrannical people dwindle away, and of how she dealt with it. She writes of heat, of food, of long summer afternoons. Mayes is the youngest of 3 daughters, and her sisters were quite a bit older, so she spend hours on her own exploring her own family's secrets. She writes of the alcohol-fueled rages of her parents, and she is gentle with her mother, whose life turned out so differently than she expected when she was a young Southern belle, and whose early widowhood sent her spiraling into alcoholism and depression.
Under Magnolia
takes us through years of high school and a women's college, in a time and place when dating was specifically regulated in ways that seem unimaginable now, yet which gifted her with lasting friendships.
Mayes is a gorgeous writer and her work just sings. Her book is evocative and moving, recreating a specific time and place. I've never read Under the Tuscan Sun because I saw the movie and wasn't impressed so didn't bother. (I know! I, too, am amazed at my own stupidity) Now I can't wait to get my hands on a copy. I highly recommend this exploration of a childhood, and the ways in which the places where we grow forever shape who we become.