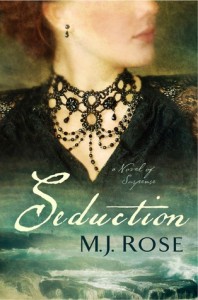 The title and the cover art of M.J. Rose's novel Seduction may give the impression of a sexually natured theme, but this novel is more about a seduction of spirit, an emotional temptation. Combining a suspense novel with historical fiction, Rose takes readers on a journey through time, inspired by beloved author Victor Hugo's real-life experiences with loss and his pursuit of connecting with the "other side."
I enjoy novels that have alternating plot lines, and the tie-in with Victor Hugo was the initial draw for me when I first heard of this book. While I have loved Les Misérables for many years, so much of Hugo's personal history was unknown to me. Though this novel fictionalizes the specifics of his storyline, the author constructed Hugo's tale in the novel around known facts of his experiences with conducting hundreds of seances during his self-imposed exile on the Isle of Jersey.
In present time, mythologist Jac L'Etoile arrives in Jersey to help an old friend with a project that will help her learn more about the Celtic history of the island. Her shared past with Theo Gaspard, the friend from her childhood who has entreated her to join him at his family's home, is more than a bit mysterious. They met as young teenagers at a rehabilitation center of sorts, where they were both being treated for their individual mental health issues. Their connection at the time seemed to go beyond a simple adolescent attraction, and the mystery that surrounded their relationship was left unsolved due to an unexplainable near-disaster that forced Theo to leave the center and left Jac confused and hurt. When they come together again all these years later, the connection is once again palpable, and the mystery only grows deeper.
This entire novel was captivating, and more than a bit spooky, for I'm not usually one to go for suspense in my reading choices. The inclusion of spirits, reincarnation, and events taking place in different points in time intrigued me, even as some themes differed from my own personal beliefs. I couldn't help but be drawn into Hugo's story line, and I greatly appreciated Rose's afterword that speaks to her research on Hugo's life and the challenge she found in trying to write in the voice of such a figure– something that she ended up doing extremely well and, amazingly, all by hand. Yes, she notes that this novel was completed after 122,833 words were hand-written, filling three notebooks!
Suspense fans, Hugo lovers, and anyone interested in a fascinating romp through history with elements of spiritualism should most definitely check this one out.