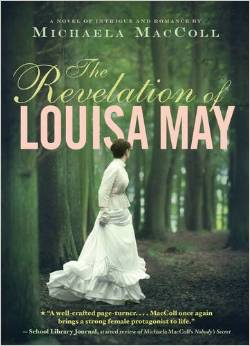 Historical fiction is not always a go-to genre for me, but I do enjoy kidlit, because the historical impact dovetails so nicely with the plot and the history is always so interesting (be it civil rights or wartime or pioneers). The area where author Michaela MacColl focuses and excels is helping an historical figure come to life.
In The Revelation of Louisa May that historical figure is one dear to bookworms young and old, Louisa May Alcott. I have heard of her father Bronson's philosophical living experiments but didn't know too much about them. The novel alludes to them, but focuses on the financial and emotional hardship of life with a philosopher, shored up by the experiences of friends Ralph Waldo Emerson and Henry David Thoreau.
Another element central to the plot is the Alcott family's work as abolitionist and specifically as members of the Underground Railroad, aiding slaves who are trying to find a better life. When a "package" arrives in their care, and Marmee is away, Louisa May takes charge of him. It's dangerous, but she's up for the task of communicating with the "Conductor" as George awaits the arrival of the rest of the family.
Another complication is the arrival of another mysterious man, Fred, a distant cousin who spent summers with the Alcotts. But he's grown and changed, and 15-year-old Louisa feels differently about him now, no longer seeing him with the familiarity of a brother. Fred's affection towards Louisa is not brotherly love either.
When another mysterious stranger comes to town, things get even more difficult. He seems to have a past with Henry that Louisa can't figure out, which is only one reason she doesn't trust him. He becomes the center of a mystery that she and Fred are determined to solve.
The chapters begin with an excerpt from the autobiographical Little Women, making the story and the character of Jo/Louisa even more dear.
I enjoyed the familiar elements of this story as well as the completely imagined incidents, which would stand alone even if a beloved heroine of literature was not the central character.
More from Michaela MacColl