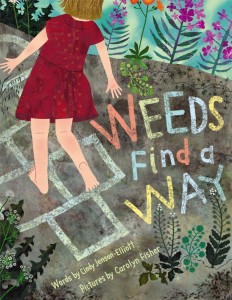 Many of my very favorite experiences with young children, as both a mom and a preschool teacher, have involved nature. Taking little ones to the outdoor environment is always an adventure… and a learning experience! Supporting experiences with literature can be as simple as filling a basket in your living space with both fiction and nonfiction library books, and as we look longingly toward spring, Weeds Find a Way introduces young readers to the hearty plants they will likely see soon.
Written by Cindy Jenson-Elliott, this information book reads like a poetic piece of fiction, with beautiful language filled with imagery along with facts. Even adults will surely learn a thing or two about various types of weeds, from how they spread to their adaptations that allow them to survive in all sorts of conditions. Carolyn Fisher's illustrations are as brightly colored as the natural environment where we'd find these very plants. An abundance of creatures appear in the pictures, too, eye-catching birds and realistic-looking insects. My own kids were excited to spy one of our favorites- a red-winged blackbird sitting among the Queen Anne's lace and orange hawkweed plants!
At the end of the book, don't skip the four pages of information about weeds in general, and more specifically, about 24 particular weeds featured in the book. Children can be encouraged to see how many of the weeds they can find on your next nature walk!
You can get a feel for the tone of this informative picture book and get a sneak peek at some of the gorgeous illustrations, too.
Win it!
One lucky reader will win a copy of this picture book to share with a young nature-lover. To enter, please follow the directions in the widget below. Contest is open to U.S. residents only.
Check out our current giveaways. Subscribe to our feed. Follow us @5M4B on Twitter or on Facebook.