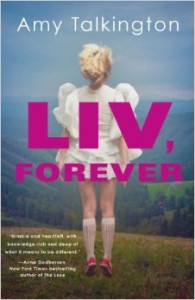 Young Adult literature runs the gamut from material that middle schoolers will enjoy to mature titles for older high schoolers and beyond. I think that Liv, Forever, Amy Talkington's debut novel, will appeal pretty broadly. There is nothing in the content that I recall that might be a bit "too much" for a middle school audience, and yet, the relationships, the universality of trying to change one's future and trying to fit in, are themes that will resonate with high schoolers as well.
Olivia leaves her past behind when she goes to boarding school in New Hampshire. She is a loner, having survived the foster system and being adopted, even though she doesn't feel much of a connection to her parents. Her art portfolio got her into the school, and having all the art supplies she needs and her own studio is a dream come true. Ms. Benson, the art teacher, pushes her to finally put her heart into it. She does, especially as her heart is open to Malcolm, one of the "Wickies," those in the prestigious Wickham Hall school who are true insiders, legacies.
On the other end of the spectrum, she befriends Gabe, another scholarship student and outsider. When she's assigned to the same work/study program as he is, she uncovers his secret — that he sees and hears the ghosts that are believed to haunt the campus.
They begin to see similarities in those who have died and are stuck there on campus, and a turn of events leads them to try to figure out why.
This is a sweet story of first love, with a star-crossed element, wrapped up in the mystery of who the girls are and why and how they died. A fun read for teens of all ages and adults who enjoy this type of literature as well.