What do you look for in a good kids' movie? I'll tell you what I like in a kids' movie, but first I'll cut to the chase and let you know that Mr. Peabody and Sherman is a movie that I think the whole family will enjoy.
And that's the first thing that I look for in a movie: Something the whole family will enjoy
When I screened the movie during a trip to DreamWorks Animation sponsored by them and 20th Century Fox, I was in a roomful of adults. There were lots of laughs and everyone seemed to enjoy it. There are a few requisite harmless jokes about bodily functions (you can see a couple in the trailer), but it's the kind of movie that adults will enjoy, as well as younger kids, tweens and even teens if you have one like mine who isn't opposed to "kids' movies." I don't think that every family movie should have to appeal to everyone, but it's nice when it does if you have kids in a wide age range.
Another critical element: Humor
There were lots of laughs. Patrick Warburton as the Trojan solider was particularly funny, and Ty Burrell's overly restrained and refined Mr. Peabody is a source of levity too.
And then add in: A little something extra
That something extra could be a strong setting, a non-preachy message, or anything that pushes a movie over the line into an experience. I'd say that this something extra is the time-travel/historical element. There's no real education, but I can definitely see how the fun vignettes as Penny and Sherman travel to the time of the Trojan War, King Tut, the French Revolution, and Renaissance Italy made for beautiful backdrops and tidbits of information.
It was truly an experience that I enjoyed. There's so much room for more adventures, and I'd love to see a sequel.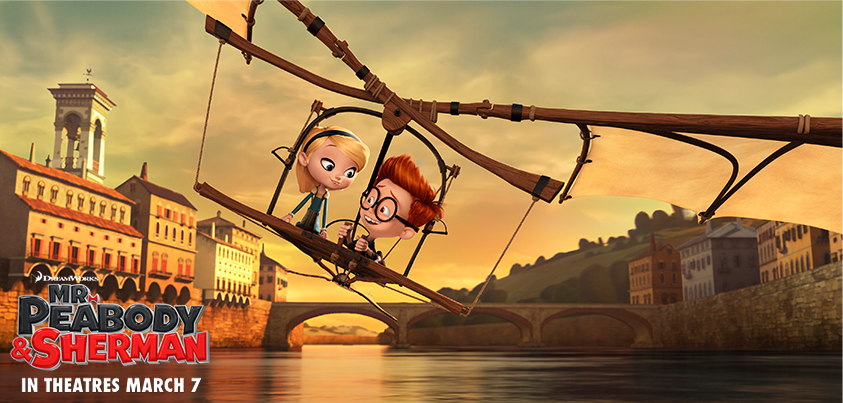 More posts:
Find out more: Mr. Peabody and Sherman in theaters MARCH 7.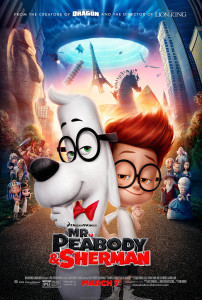 Mr. Peabody (voiced by Ty Burrell, Emmy Award® Winner –Modern Family), the most accomplished dog in the world, and his mischievous boy Sherman (Max Charles –The Amazing Spiderman), use their time machine—the WABAC—to go on the most outrageous adventures known to man or dog. But when Sherman takes The WABAC out for a joyride to impress his friend Penny, they accidently rip a hole in the universe, wreaking havoc on the most important events in world history. Before they forever alter the past, present and future, Mr. Peabody must come to their rescue, ultimately facing the most daunting challenge of any era: figuring out how to be a parent. Together, the time traveling trio will make their mark on history.

Starring Ty Burrell, Max Charles, Ariel Winter, Stephen Colbert, Leslie Mann, Patrick Warburton, Stanley Tucci, Allison Janney, Lake Bell, Zach Callison, Dennis Haysbert
Directed by Rob Minkoff
Produced by Alex Schwartz, Denise Nolan Cascino
Executive Produced by Tiffany Ward, Eric Ellenbogen, Jason Clark
Disclosure: My travel was sponsored by DreamWorks Animation and 20th Century Fox.