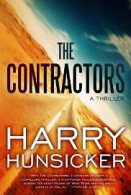 Jon Cantrell lives in a world where the focus is on money and drugs and how playing one side or the other can get you more. He is a DEA contractor, much like the no law applies to them contractors we've heard so much about in Iraq. He, however, has a sense of justice and morals, slightly twisted though they may be in The Contractors by Harry Hunsicker.
Cantrell had been a Dallas cop – and a good one – until the day he found a baby with badly burned legs in the hidden back room of a strip club and insisted an ambulance be called in. An FBI agent tried to warn him off and push it under the rug, but Cantrell's focus was solely on the baby. His temper got the best of him, and he called in all reinforcements by creating a situation where there was an officer down – by beating the FBI agent. Needless to say, Cantrell's career as a police officer was over.
Now he works as a contractor for Blue Dagger, adding to the manpower of the DEA on a freelance basis. After he and his partner/lover Piper complete a side job returning a runaway to her family, the crooked cop who had hired them passed along a gadget he "didn't want" that was part of his plan in a plot involving multiple sides who did and didn't want not only a major drug bust to happen, but a witness in a cartel case who happened to be in the warehouse to either die or be found.
When Cantrell and Piper not only find the witness but somehow manage to attract a rogue DEA contractor from another outfit, in addition to the real DEA and other law enforcement, the story is only beginning. What follows is the you can't believe they got out of yet another situation chase across Texas and time to save the witness and have her presented in Marfa for trial where Cantrell and Piper can collect a huge cash reward.
Unlike others in the book, Cantrell and Piper have relatively unselfish motives for wanting the money. Cantrell needs it to pay for a biopsy his ailing dementia-riddled father needs, along with medicine for his sister who has mental health issues. Piper is searching for the mom who gave her up for adoption while also supporting orphan after orphan around the world.
The Contractors is told primarily from the narrative of Cantrell, though some scenes come from the perspective of Sinclair, the crooked cop, or McNally, a Senator from Texas campaigning for president, or other characters who need to provide more background on the story and what's happening.
It takes over 500 pages to get through the convoluted tale with more twists and turns than a rabbit warren, but it sucks you in to this seamy underbelly of US politics, the world of the drug cartels, and dirty cops. The characters are well drawn and as flawed – or more so – than anyone you pass on the street. It makes their choices more understandable, as their depth and layers create the conundrums we all have to deal with.
The book contains a fair amount of violence, as you would expect with a thriller, but it is rarely graphic, and the language is at a minimum. You definitely need to suspend your belief while reading the book, but it keeps the pages turning with near nonstop action. This is clearly the first in a series of books, as the epilogue sets up the next Jon Cantrell novel.
See more at the TLC Book Tours page.
Giveaway
One of you, US and Canadian addresses, will win a copy, in your choice print or digital. Please let me know who you are entering to win this for, yourself or another thriller-lover.
Written by Michelle who is grateful that her exposure to drugs and that world is limited to what her doctor prescribes when she has a sinus infection. See what her world does encompass via her blog Honest & Truly! and follow along with her on Twitter where she is also @HonestAndTruly.