I'm not the nicest most considerate person in the world. Sometimes my tell-it-like it is attitude comes across as insensitive. That said, I'm not mean-spirited either.
We generally only post positive reviews on this site. One reason is that I know that there's a person behind every book. Why be unnecessarily cruel if it serves no purpose? I assume the reason people read book review blogs is to find books that they might like to read. Our space is valuable — not to mention the time it takes to write a review — and we'd rather put a book out there that we think someone will like, as opposed to using space to mention a book about which we have nothing positive to say.
These reviews run the gamut from books we love, to books we liked, to books that we didn't necessarily love but others might enjoy.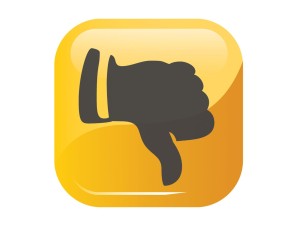 But I do take reviews on amazon and Goodreads into account when I'm deciding to buy something. If someone only posts a review of a book that she'd give 3, 4, or 5 stars, then the results are skewed. So though I don't generally post those 1 and 2-star reviews here, I will put them online elsewhere. I think I feel more comfortable with that because they have balance and aren't the sole representation of the book. I know that I always read high and low reviews. I am also careful to write those reviews more critically, because just because I don't like a book doesn't mean that others won't (That said, after writing this section, I did post an unfavorable review on my Goodreads page and couldn't come up with much more than "This book is really boring. Nothing much happened, and there was poor character development, so even for someone — like me — who enjoys character-driven fiction, it doesn't offer much.")
I also read negative reviews with that same intent. If someone rates a book one star because they "didn't like the characters," I know that isn't a deal-breaker for me. If they write about explicit sex, violence, and language, I know that would also be a turn-off for me.
What about you? Do you think unfavorable reviews are just as important as glowing ones? Are you, like me, more reluctant to write them?