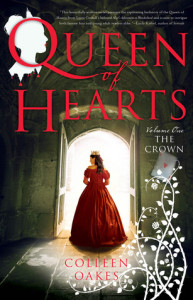 I'm not alone in loving my fairy tales long after I should have outgrown them. Lately, there have been so many books, movies, and television shows that go behind the basic fairy tale to create real stories for the characters. This isn't limited just to our favorite characters like Cinderella, but also to the villains.
The Queen of Hearts from Alice in Wonderland is the hero of the new Queen of Hearts saga by Colleen Oakes. In her first installment, The Crown, Dinah is a teenager lost in her kingdom, not the princess her father and everyone hopes she will be. You see slowly how she is driven to become the queen we all know and despise.
See more in the full review and giveaway of Queen of Hearts: The Crown on 5 Minutes for Mom.