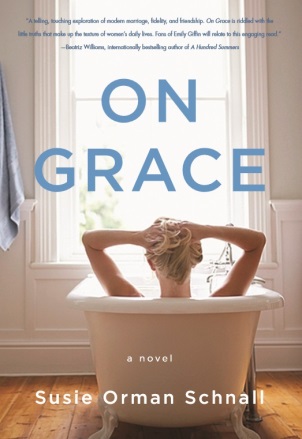 SparkPointStudio and author Susie Orman Schnall have asked us to feature a cover reveal and a fun giveaway for her new book On Grace.
Meet Grace May, who is actually excited about turning 40 in a few months, that is, until her job, marriage and personal life take a dizzying downward spiral. Can she even recover from the most devastating time in her life, right before it's supposed to be one of the best?
Susie Orman Schnall's debut novel On Grace is all about rediscovering yourself, and doing it with grace, well after you think it's even possible anymore. The book deals with themes such as divorce, infidelity, re-entering the workforce after children, breast cancer, and of course, turning 40.
We all judge books by their covers, don't we? When I see this one, I think of that old commercial that means so much more to me now that I'm a mom in her 40's: "Calgon, take me away." I see serenity, a woman making time for herself and embracing this time in her life.
Win it
One of you, U.S. only, can win a signed advanced reader's copy of On Grace, out April 8, 2014.
SparkPointStudio is including a $10 Starbucks gift card as well!
Start off by telling me if you embrace(d) or dread(ed) turning 40.