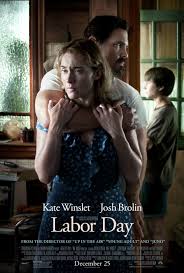 My book club read Joyce Maynard's novel Labor Day
last month, and this month to celebrate we planned to go as a group to see the movie, now in theaters.
But weather intervened. Portland, OR, rarely gets snowstorms, but this weekend we got a great one! I adore snowstorms and I haven't seen one in years and years, moving to the Sahara had something to do with that. Still, I've been back for 3 snowless years, and this week saw the first snow day ever for my kids. First we had 6-8 inches of snow, then we had the freezing rain that makes this part of the country such a joy. Monday, our second snow day (cancelled due to ice), 3 out of 8 of us, plus my teenage daughter, managed to squelch our way over to the movie theater to see what the film makers had done with Joyce Maynard's book.
Normally, I don't like it when "they" make movies from books. However, I felt this book might be the exception, and I was right. Labor Day has a single storyline and moves pretty much chronologically through events, which are told from one point of view, that of 13 year-old Henry. The adaptation was faithful but managed to make some things better.
The basic plot is this: Henry lives with his divorced mother, Adelle, a depressed agoraphobic woman whose many troubles have left Henry feeling responsible for her. On a rare outing, they meet Frank, who's injured and bleeding and requests/demands a ride home. Once at their house, he ties Adelle up–so she can truthfully say she was unwilling–and then makes chili from scratch and feeds it to her. Turns out he's an escaped convict, but a decent, good man. Next day he repairs walls, changes furnace filters, and mops and waxes the floor. Will he and Adelle fall in love and live happily ever after, or will the long arm of the law catch up with him? You'll have to either read the book or watch the movie to find out.
The movie follows the book's story line very closely. We all agreed that the flashbacks that show Frank's story needed more explanation; if we hadn't read the book, we would have been confused. Another complaint was that something we felt was quite major (I don't want to be a spoiler, so we'll just say the "who dunnit") was possibly changed or left unclear. However, there were parts we liked better. The scene where the two meet Frank in the store was improved and clearer. We also appreciated the 80s feel of the sets and props.
Overall, the movie is a faithful adaptation of the book, managing to capture not just the story but the moods and feel of the book as well. If you're a hopeless romantic, you'll enjoy both versions of Labor Day
A big thanks to William Morrow Publishers, who provided us with complimentary books and movie passes in exchange for our honest opinions.