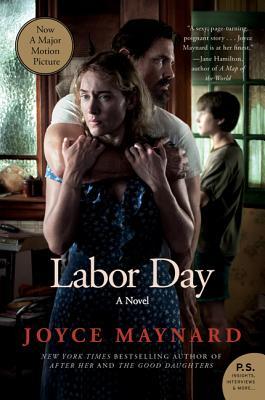 My book club was sent free copies of the book Labor Day by Joyce Maynard, and Saturday afternoon we gathered in my living room and ate yummy snacks and talked about the book. I'll give some notes below, but this will inevitably include some mild spoilers, so be warned. Read on at your own peril! If you just want to read my review, click on over to 5 Minutes for Mom, where you can enter to win a free copy.
The first topic of conversation was Adele, the mother. We all agreed–what kind of mother would bring a convict into the home, allow him to stay, fall in love with him, plan to run away with him? We were bothered that she knew her son could hear them being intimate through the paper-thin walls. We were bothered by how she depended on him for her own happiness, and the inappropriate way she confided in him her thoughts and feelings as one would to another adult. I was reminded of the mother-son relationship in Nick Hornby's About a Boy
(I know there's a movie of that one too but I've never seen it; enjoyed the book though). We talked a lot about how this would affect a boy, and we found Henry–sensitive, confused, feeling responsible for his mother's well-being and happiness–a very realistic portrayal. Tiffany, the only one of us with a son near Henry's age, was the one most troubled by Adele's version of mothering.
We had mixed feelings about Frank. "We got off to a bad start and I could never trust him," Kelly said. "I kept waiting for the other shoe to drop, but then it didn't." Some of us found him almost too perfect, and several couldn't get over the inherent creepiness of the situation, and the speed with which he and Adele hook up. On the other hand, he is a great character. "I liked him. Everything went wrong but he did nothing wrong," Rhonda said. "The pie making scene, the catch with Henry… I wanted to like him but couldn't trust him. Even the letter felt creepy to me, not legit or warm," commented Yvette, who added that objectively she knew he was a great character but she couldn't get over her initial impression.
We all liked how author Joyce Maynard thoroughly grounds this book in the 80s. Sentences like "back then only certain families had Nintendo; we weren't one of them" (p 3) or the Jerry Lewis telethon on TV were read out loud and commented on. Even Eleanor, with her eating disorder and desire to sue her parents and later her cocaine use, seemed to embody every issue of the times. Her drama-seeking persona, however, is timeless.
Rhonda was the only one who thoroughly loved the ending. "I'm a sucker for happy endings; what can I say." Yvette was bothered by the change in pace. The story moves in great detail through Labor Day weekend, then in one chapter we get Henry's high school, adulthood, reconnection with Frank, and all. This didn't bother Rhonda and me, although others wanted a simple summation of the current situation.
We all agree that normally, we like book versions better than movie versions. However, we all felt Labor Day
was the type of book that can make a good movie, and we're all looking forward to going as a group to see it next week!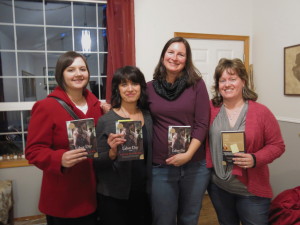 I didn't remember to take a picture until the end, after some people had already left, but here's half of us, at the end of a fun, fast-paced discussion.
Leave a comment here telling me what you think makes a good book club book, or what kind of books you like to discuss casually with friends. Then head over to the Labor Day book giveaway post at 5 Minutes for Mom and log this entry there.