This post is part of the TLC Tour for "Our Love Could Light the World." They provided me with a copy of the book in exchange for my honest opinion. Click on the link to read what others are saying.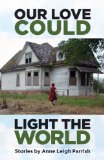 In the opening story of Anne Leigh Parrish's collection of connected short stories, the Dugan family is revealed as people you'd hate to live nearby. The 5 kids are out of control, the dad hasn't worked in years, the mum leaves on a business trip and all chaos breaks loose. In the middle of this, some of the kids bring home an old man from the store. Dressed in pajamas and robe, with rheumy eyes and memory loss, the man sits at their kitchen table while the kids clamor to keep him as if he were a stray puppy. He mistakes the oldest girl, Angie, for his long-lost love Caroline. Angie has spiky green hair and a nose ring; she's overweight and surly. "Caroline," he says and kisses her. "Our love could light the world." This moment, humourous and poignant, echoes throughout the book. We see a family who are messed up and who don't really know how to express love to one another, yet who clearly do care for one another, in their own ways.
Our Love Could Light the World
is formatted as short stories, highlighting various members of the family, including the children's aunt Patty and her long-term boyfriend Murph. The mother of the family, Lavinia, divorces the dad and moves in with her boss, in his spacious lake-side home with more than enough room for the kids, who eventually join them. Chip, the step-dad, manages to pretty much stay out of everyone's way, devoting his time to playing golf and staring out the window. The kids grow and change, moving on through high school and college. Even the dad, Potter, manages to bring his life under control at one point. Meanwhile we get glimpses of family visits, of graduation parties, of sibling rivalry, of house remodeling projects, of retirements and weddings, of various aspects of every day life in an American family.
What makes this book work so well is that it's one of those books that seems deceptively light, but in actuality goes deep into family relationships and psyche and the dysfunction that seems an inevitable part of all families everywhere. Each story would stand alone but together, they present a nuanced and complex view of the various family members, as we see them grow up, change, move forward (or not), deal with different challenges and circumstances. Before long, I found myself really caring about the Dugan family. They are very easy to relate to, and you may find yourself feeling like you've actually met them, or at least seen them on the bus. Our Love Could Light the World
is a delightful read, and I highly recommend it.