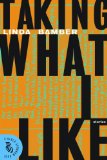 Reading Taking What I Like
is in some ways like taking a lit class from the very best lit teacher–you know, the one who could open up the text for you like no one else could and make the characters come alive, until you felt you'd recognize them on the street–Anna Karenina in lilac catching a train, or Desdemona leading a staff meeting. In fact, the first story of this enticing book
opens with Desdemona as the chair of the English department of a small university. The entire cast is on staff, but Othello is the only minority member, and so Desdemona's running an affirmative action search. The problem is that Iago's up to his old tricks, and there are misunderstandings and miscommunications galore–only what's at stake here is her job. From the very beginning, I was chuckling, as Bamber deftly upends things while somehow remaining true to the original characterizations.
Each story in Taking What I Like
looks at a different work of literature or art–mostly Shakespeare's plays, but with stories referencing Jane Eyre and the painter Thomas Eakins as well. Each story is different. In "Playing Henry," for example, the protagonist is an actress named Claire who is playing Henry IV in the 3-play cycle, and also dealing with an overbearing director, a father she's desperately wanted to please her entire life, and a longing to do something particularly well, even perfectly. Set within the framework of the plays, the story manages to make that specific bit of English history (or "history"; Bamber looks at accuracy in Shakespearean sources as well) live anew, with relevance for today.
In "Time to Teach Jane Eyre Again" the teacher is dreading the yearly teaching of Jane Eyre and thinks, "There should be preparing-Jane-Eyre songs and they should be played in supermarkets like Christmas music at the season of the year when Jane Eyre is normally taught." But as the lecture begins something happens–the text comes alive, and the students respond. Later, the professor ponders the endurance of her work, a thought sparked when she runs into an old student.
Whether looking at "As You Like It" or "Antony and Cleopatra" or any other work, Bamber approaches her subject with fresh eyes. She deconstructs her plays, adding in commentary (filled with a sort of biting humour) and paraphrases (possibly my favorite parts),  always showing why the subjects are relevant to the 21st century–whether that be empire-building or romance or racial harmony–while showing historical perspective too. Yet the stories are funny, fresh, easy to read while sparking deeper thoughts on everything from the nature of grief to sibling rivalry to jealousy.
Taking What I Like
is a unique book but it's got elements that will appeal to almost anyone. It's nearly a perfect book. Even if you're thinking, "But I hated lit class and I've forgotten everything I ever learned about Hamlet," Bamber offers enough background on the play (or picture or novel) that it doesn't matter. This collection of short stories is highly accessible, and may just make you want to re-read all your old favorites. And even if you never did read Hamlet, you may just love her short story that deals with prisoners performing the play.
I loved this book and I honestly can't recommend it highly enough. It's fresh, offering a unique perspective on much-loved works that have endured for a reason. It made me want to reread some Shakespeare, it made me google Thomas Eakins (ok so I'd never heard of him), and it definitely made me want to make all my friends read this book so we can discuss it together.
Seriously, get a copy of this book. You can enter to win a free copy below (YAY!) but put it on your wish list just in case, since only one of you can win. I'd loan you my copy but I've already loaned it to my daughter's lit teacher. She's going to love it.
Enter to win
Start off by entering your name and email in the widget below. Then leave a comment with your answer to the question: "Do you have a favorite Shakespeare play?" (It's okay if the answer is no).
Check out our current giveaways. Subscribe to our email feed. Follow us @5M4B on Twitter or on Facebook.