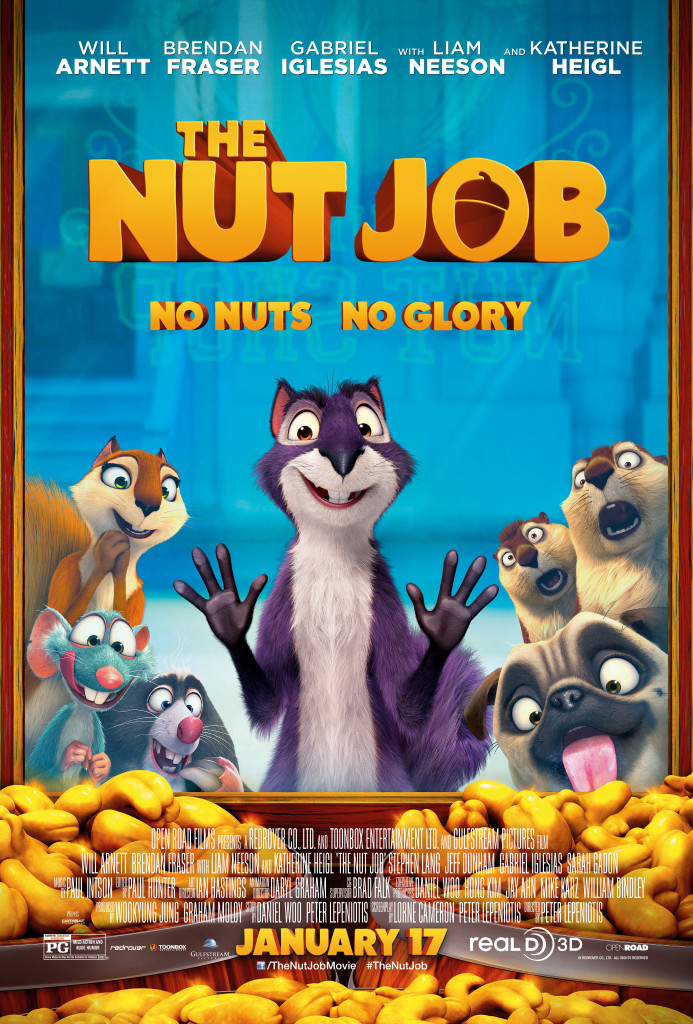 SYNOPSIS:  In animated 3D, THE NUT JOB is an action-packed comedy in fictional Oakton that follows the travails of Surly (voiced by Will Arnett), a mischievous squirrel, and his rat friend Buddy, who plan a nut store heist of outrageous proportions and unwittingly find themselves embroiled in a much more complicated and hilarious adventure.
CAST: Liam Neeson, Katherine Heigl, Will Arnett, Brendan Fraser, Stephen Lang, Sarah Gadon, Jeff Dunham
DIRECTOR: Peter Lepeniotis
WRITER: Peter Lepeniotis and Lorne Cameron
THE NUT JOB opens on January 17!
Get Social
Enter to win
In honor of the Nut Job movie, opening everywhere on January 17, we have some great goodies for 2 winners:
 Job coloring puzzle *shrink wrapped with set of crayons (4 pack)
Peanut shaped adhesive note pad
Foldable lunch tote
Purple acorn shaped pen
Character sticker set
Poster
T-shirt
Check out our current giveaways. Subscribe to our email feed. Follow us @5M4B on Twitter or on Facebook.