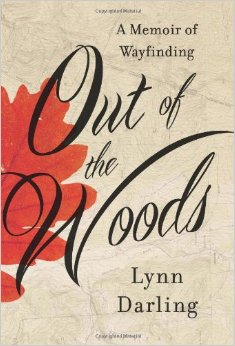 Memoirs, by their very nature, tend to be filled with self-reflection. Though I expected this when I began Lynn Darling's Out of the Woods: A Memoir of Wayfinding, I still found myself a bit surprised by its tone, which delved deeper than many in the genre.
Darling is at one of those "crossroads" points in life. Her only child is heading off to college, and as she was widowed years earlier, she finds that her life is losing its main compass. Life, as previously directed by parenthood, was changing, and Darling decides that she needs a change of scenery to accompany her new stage. She moves to a small, and by most people's standards, very humble house in rural Vermont. "Going off the grid" perhaps is a funny way to describe her move, since she is actually trying to find her way more than ever. Getting lost as a means to finding oneself becomes a recurring theme in generalities and specific experiences alike.
In her writing, Darling is brashly honest with her self-perceptions and descriptions, and she is not light on the constructive criticism. As she struggles with redefining herself in a sort of multilayered mid-life crisis mode, her experiences provide many new options. As she learns the very earthly skills to survival in this new environment- deciphering maps, orienting oneself in the woods, being prepared for emergencies- she is also pushed to develop the very same skills in a more figurative sense regarding her life's path.
With a literary tone, this memoir touches upon a universal aspect of humanity- changes in identity as we go through different life stages. Lynn Darling shares with readers her search for a new path, one in which curveballs are common. What I respected most was her realistic account of the ways in which she goes about handling them. I found this to be quite refreshing, for her stumbles are understandable and so very, very human.