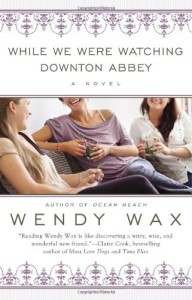 I read and reviewed this book in hardcover in between seasons two and three. Well, now we've seen season 3 and we're enjoying season 4. The book is out in paperback, so I've reposted my review over at 5 Minutes for Mom, and there's a giveaway!
Whether you're a fan of Downton Abbey or just like good women's fiction, this novel by Wendy Wax was a great read.
Please read my full review of While We Were Watching Downton Abbey at 5 Minutes for Mom, where you can enter to win your own copy!
Check out our current giveaways. Subscribe to our email feed. Follow us @5M4B on Twitter or on Facebook.