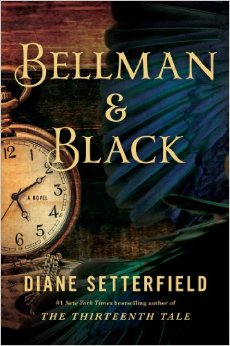 A few days after his 10th birthday, William Bellman is out playing with 3 boys the same age, his cousin and 2 friends from the village. He has a perfect slingshot. He boasts he can hit a rook perched on a branch far across a field, a hit that is nearly impossible to make. As the other boys scoff, he draws back his slingshot and lets fly. The bird is killed. And this sets in motion events that will eventually cost William Bellman dearly.
At first, all seems to go well for the young man. The story skips several years until William is a young man, his tenor much admired in the choir, his good looks much admired by all the village girls. His uncle pegs him to take over the prosperous Bellman Woolen Mills, and William proves himself so adept that not only does he quickly learn all the workings of all the various aspects of the business, but he continually comes up with new ways to make the mill more lucrative and expansive. Fortune smiles upon him. He marries the girl he loves and their union is blessed with 4 beautiful children. And then, gradually, all of his nearest and dearest begin to die.
There's a man Bellman only sees at funerals. On the night after his wife and 3 of his children have died, they talk, and the life of the eldest daughter is spared. Bellman decides to open an emporium dedicated to the business of mourning that was so popular in the Victorian era. Everything from the niceties of shadings of black (depending on closeness of relationship to the deceased) to the sale of coffins and mourning jewelry to the hiring out of black horses and mutes for the funeral, all was provided by Bellman and Black. But who really is Black? Bellman pours himself into the business with a fevered sense of responsibility to this silent partner and continues his obsession with rooks. He works himself to death.
In between sections are short treatises on rooks, on how they figure in mythologies and information on their habits.
Bellman & Black
is the much-awaited second novel from Diane Setterfield, author of The Thirteenth Tale. Many people loved that book's combination of Victorian Gothic within a framework of modernity, and her ability to recreate a world long gone. Setterfield is an excellent writer, and once again she has managed to skillfully recreate the Victorian era. Readers will learn much about the workings of a woolen mill, all the different areas from carding to dyeing, why a water wheel was necessary, and more.
However, to be honest, Bellman & Black
doesn't achieve the sense of dread and mystery that it promises. Setterfield is as always an excellent writer, and it's not the book isn't interesting. We are supposed to believe that when William Bellman killed that rook, he doomed all those nearest and dearest to himself to death, but the fact is that death is and always has been common to man, and that in the era before modern medicine and modern hospitals whole families did die of plague and people did die from falling off horses and too much alcohol combined with cold nights.
I'm not trying to be harsh, just give you a realistic view of the book. For me, it didn't ultimately fulfill its goal, but I continue to admire Setterfield as a writer and look forward to whatever she produces next.