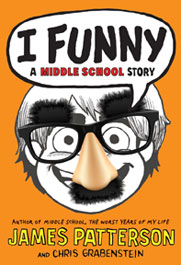 Jamie Grimm isn't who you'd expect to be a middle school comic. In I Funny, the middle school series by best-selling author James Patterson and Chris Grabenstein, Jamie's family has died in a tragic car accident, leaving him confined to a wheelchair and living with his aunt, uncle, and bully of a cousin in a new town. That said, the book focuses on the positive and the funny while still acknowledging so many of the realities of middle school life.
Jamie works for his Uncle Frankie's diner – not the uncle he lives with – and tells jokes to the customers as they pay their checks. His laughs go over well, sprinkling a mixture of Yakov Smirnoff and George Carlin (the clean one), amongst others. His uncle pushes him to enter the "Planet's Funniest Kid" contest, which he does without telling anyone. He wins the local contest, which moves him on to the regional competition.
While Jamie is working on figuring out how he'll get to Manhattan for the competition, he has plenty of other issues to deal with. Stevie Kosgrov is the bully cousin he lives with who is busy making his life miserable. He is shocked to find that "Cool Girl" is interested in possibly being more than just a friend to him. And he has to navigate through the challenges of living in the family's garage, the only place his bedroom could be with his wheelchair.
I love the fact that I Funny intersperses so many serious topics and issues throughout the book. Just like life, Jamie isn't focused on simply one problem or goal; he has a multitude of things going on in his life at one time. James Patterson ties them all nicely together, and the life lesson that you cannot simply focus on the negative but instead find ways to be happy and move on with your life, reaching for your dreams is one that makes me happy Mister Man loved reading this book, too.
The book is a good 320 pages, but it still is a relatively quick and easy read for late elementary school or middle school students. On just about every page there are illustrations related to the current page with often clever jokes and takes on the current scene. It helps the book speed by while drawing in even readers who might be a little reluctant to take on such a thick book.
This review is a part of Shannon Messenger's Marvelous Middle Grade Monday.
Enter to Win
You can enter to win a copy of this book as well as the sequel, I Even Funnier, by checking out Michelle and her son's video review of that title over at 5 Minutes for Mom.
Written by Michelle who is more than grateful that Mister Man's class clown tendencies don't stem from any tragedy he's faced in his life. See what Mister Man and the rest of Michelle's family are up to on her blog Honest & Truly! or follow along with her on Twitter where she is also @HonestAndTruly.