I know we've done a lot of talking here at 5 Minutes for Books about stretching your reading habits. Hopefully we've encouraged you to try new authors and genres, and go outside of your usual reading boundaries. One of the great things about being a part of this team is that my teammates do that for me. Such was the case when Jennifer suggested that I read The Thirteenth Tale by Diane Setterfield.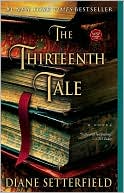 Gothic novels have never intrigued me. Still, I trusted Jennifer's judgment and took the bait. I was hooked a couple of pages later with what I think is one of the greatest lines ever, Reading can be dangerous. (Sounds like a great title for a novel, doesn't it?)
When Margaret Lea, a bookish sort of gal, is summoned by Vida Winter, her curiosity about the mysterious author gets the best of her. Margaret travels to Ms. Winter's secluded home in search of the missing thirteenth tale from a book of short stories. She finds a dying woman who is determined to finally share her own life story…or is it just another of Ms. Winter's concoctions?
Setterfield has expertly crafted a tale of obsession, secrets, and ghosts. I must confess, about halfway through I was a little weary from it all. Still, the revelation of the truth made me gasp out loud and glad I stuck with it.
The Thirteenth Tale was my first foray into gothic fiction, but I'm looking forward to returning to it when the Classics Bookclub discusses Rebecca. We've switched to an every-other-month format so that more people have time to finish the selections, so get your copy now so you'll be ready to join us on August 4.
The edition that Jennifer read of this novel even had a list of suggested titles to explore if you enjoyed The Thirteenth Tale, and Rebecca was one of them.
Melissa has been captivated by books for as long as she can remember. She resides in Virginia and blogs at Breath of Life.