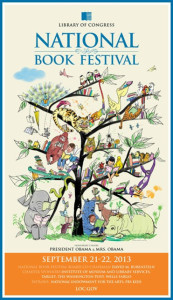 It's been a week since my family and I attended the first day of the National Book Festival in Washington, DC, and my pre-festival enthusiasm held up through the day. We listened to a number of authors and illustrators in the Children's Tent, and as always, it was refreshing and lovely to hear the creators of books we love speak about their craft. I've always believed it's important to teach children that the books they enjoy are made by actual people, and there's no better way to drive this point home than to have them see (or meet!) these authors and illustrators in person.
We visited the book sales area early in the day, and while I'd love for the children to be able to leave with all the books that have caught their eye, our bank account doesn't care for that idea. So, as usual, we instituted the one book rule, which is a terribly difficult rule for a bibliophile like me to enforce. But, paying full cover price for hardcover books can add up, and we're regular patrons of our public library, so we made mental lists of books to check out while we each settled on one book to buy.
My oldest, newly 13 and an eighth grader who is making the transition to YA fare, opted for a book recently reviewed by Jennifer, the YA novel Forgive Me, Leonard Peacock by Matthew Quick. I've read varying age recommendations for this one, some suggesting older high schoolers and others giving a green light to eighth graders and up. I warned my son that the book covered a very heavy topic, and he said that he was looking for a more serious piece of fiction that would challenge him. Though we didn't get to see Matthew Quick's talk at the festival, my son was still intrigued by the book description and the very eye-catching cover. He began reading that afternoon at the festival, and he finished the book on the train ride home!
At seven, my daughter is a voracious reader whose interests are quite varied. She'll still pull picture books off the shelf for a quick read, and she usually has five or so middle grade novels with bookmarks in them at one time. She had the toughest time of all trying to find just one book to buy that day, and she went back and forth among several titles until she saw the cover of Kevin Henkes' new book The Year of Billy Miller. We had been talking about Henkes earlier in the morning, trying to figure out if we were going to be able to stay long enough to see his late afternoon talk, and the children were amazed at remembering how many picture books of his they had read and loved. We were surprised to see his name on a novel, but all it took was reading the inside cover description of the book for my daughter to declare that she had her winner. She's almost finished with this one now, and I think I'm going to steal it off her shelf next for my own enjoyment. Unfortunately, an afternoon downpour influenced our decision to leave the festival before seeing Henkes' talk, but my daughter was okay with that. "Maybe next time, Mom. At least I get to read his book," were her words of consolation to us both as we ran for the train in the rain.
Our five year old son was the quickest decision maker of the children, for as soon as he saw the cover of Brian Floca's new nonfiction picture book Locomotive, he was in awe. Though he's never been a serious train enthusiast, he was immediately drawn to this book. As we looked through the pages, we were both in awe of Floca's detailed and lifelike illustrations, and my son was excited to buy a book that "has so, so many words," a picture book that can certainly entertain for a long time. Right after making our purchases, we were able to grab some seats in the Children's Tent for Floca's presentation, and I was impressed by the level of time and research he invested in the making of this book. He was engaging and funny as he showed the audience pictures of his travels and first-hand experiences that contributed to the writing and illustrating of the book, and I gained an even stronger respect for the work that goes into the production of quality nonfiction work for children.
And finally, I want to share my own book purchase, because it also includes a little story about my geekiness when it comes to my obsession with children's literature. I knew going in that I wanted to purchase an Oliver Jeffers book, because he was one of two picture book author/illustrators who I was most thrilled to see. I had a hard time choosing myself, but I eventually settled on This Moose Belongs to Me, a book that we've borrowed from the library and have loved. Though I opted not to conduct any one-on-one interviews this year, Jeffers would have been at the top of my list. I think I was intimidated by his sheer awesomeness that I was concerned I wouldn't have anything even remotely intelligible to say. Well, I was tested on that fear, because near the end of one talk in the children's tent, I realized that Jeffers was standing at the side of the tent watching. And no one was around him. I debated for a few minutes, until I decided to seize the moment as it were, and I approached him for a quick conversation. He was as personable and friendly as could be, and I'm now able to add him to the list of children's author/illustrators who I've had the grand pleasure of meeting in real life.
So there you have it, a peek into our National Book Festival shopping bag and a glimpse of what our day held. If you ever have the opportunity to attend this incredible yearly festival held on the National Mall in Washington, DC, every September, I highly urge you to go. Or, check your area for local book festivals. Trust me when I say that they are experiences to remember.