Bibliophiles will soon descend on the National Mall in Washington, DC, for the 13th year in a row to listen to authors and illustrators speak about their work at the 2013 Library of Congress National Book Festival, on Saturday, 9/21, and Sunday, 9/22. This event has been one of my very favorite things to do in the DC area ever since it began, and I'm thrilled to say that my family and I will be there once again this year. While the author/illustrator presentations are likely the biggest draw for the crowds, trust me when I say that there are many, many things for book lovers of all ages to do and enjoy on either or both days!
Author Pavilions
Get out a pencil and paper and start your planning! With authors scheduled to give talks in seven different pavilions over the two days, be sure to look at the schedule ahead of time to plan your stops in each of the pavilions– Children, Teens & Children, Contemporary Life, History & Biography, Fiction & Mystery, Poetry & Prose, Graphic Novels & Science Fiction. I can tell you from experience that children's authors often draw HUGE crowds, and it pays to stop by the pavilion a little bit early to try to scout out a place to sit.
Book Sales Pavilion
Have credit card, will spend in the Book Sales Pavilion. Barnes & Noble is once again the official bookseller for the Festival, and this huge tent features copies of books by the authors appearing at the Festival. Many times, autographed copies are available for purchase, and though the lines might look intimidating, the incredible staff and volunteers in the tent always seem to keep them moving at a good pace.
PBS Kids
If you've got young fans of PBS Kids programming, then you'll have to swing by the PBS Kids tent for fun and games, and be sure to watch out for character meet-and-greet stations where kids can give hugs and get pictures with their favorite characters. In years past, we've high-fived Clifford and smiled with the gang from Super Why!
Book Signings
If you're patient and really looking forward to getting a minute or two one-on-one with your favorite authors, be sure to look at the Book Signings section of the schedule. At an event like this, you'll be certain to make new friends while waiting in line, chatting about the authors and books you all love. There are sometimes individual restrictions on the number of books an author will sign or the amount of inscription that they're willing to make, but it's quite the experience to walk up to a beloved author and watch as he or she signs a book that will stay on your shelf forever. You don't need to purchase books at the Festival to have them signed, so check  your shelves for your well-read copies and bring them along.
More!
Can you believe that was just a slice of the fun at the National Book Festival? Click for more Festival information, a complete list of authors in attendance, and special events info, as well.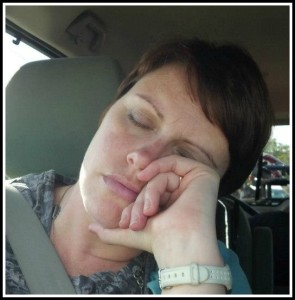 Over on my personal blog, I've posted with extreme enthusiasm about some of the authors who I'm most looking forward to seeing. I'm fully prepared to spend two days hustling between tents and reveling in the joy of all things literary. One thing that I've learned after many years of attending the National Book Festival is this– the exhaustion felt at the end is a happy one. My husband snapped this picture in the car on the way home from the second day of last year's Festival, and I know that I was in the middle of a content, bookish dream.