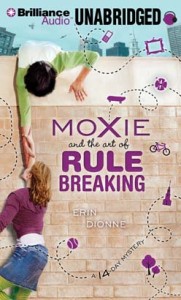 Moxie is her name, but it's also her attitude. She's determined to make this summer her best one yet. It's the last summer that she and her best friend Ollie have together before heading to different high schools in the city.
Her first bit of rule-breaking starts off when she opens the door to a stranger. She thought that her mother just forgot her keys again, but it was actually a woman with long red hair and high-heeled boots who was looking for her grandfather. She brought a message from Sully Cupcakes saying that he wanted his stuff back, and if he didn't get it back in 14 days, there would be trouble.
Moxie knows that her grandfather used to "hide" things for people, "connected" people in the "business" like Sully Cupcakes. Now he's in an Altzheimer's facility, but there's no way Moxie is going to tell this woman that. She's gotta take care of this herself.
So she breaks rule number two by getting Ollie involved. Other rules include breaking out of her house after getting grounded (for breaking the rule of riding into Boston alone), not to mention laws about stealing and defacing public property. After some research, Moxie begins to believe that what Sully Cupcakes is looking for is the famous stolen pieces from the Gardner Museum!
But there's never a question about whether or not she's going to do it. She is going to take care of this because she loves her Grumps, she's scared of the red-haired lady, and well, maybe this will be a pretty great summer after all.
Moxie and the Art of Rule Breaking: A 14-Day Mystery was a fun caper by Erin Dionne (an author I've been meaning to read). It was fast-moving as the subtitle "A 14 day mystery" indicates, which added to its appeal. The themes of friendship, family, and Moxie's worry about her future are things that will appeal to middle grade readers.
NOTES ON THE AUDIOBOOK
Reader Amy McFadden made Moxie an even more winsome character. I was drawn to the confidence combined with insecurity that she conveyed in her voice. However, the novel takes place in Boston, and Moxie sounds like she's from Boston. I don't know if it's because the accent of the reader was off, or more  likely, that the Bahston accent is just not that melodious, but it really took some getting used to. But in the end, I was glad for the little bit of extra color that the accent brought to it.
Check out the Brilliance Audio Page for a sample.
Amazon (affiliate link) has the MP3 CD of Moxie and the Art of Rule Breaking at a great price right now. I really love audiobooks for family car trips (or random driving), as well as for kids who are more reluctant readers. This is one that could certainly be enjoyed by the whole family.