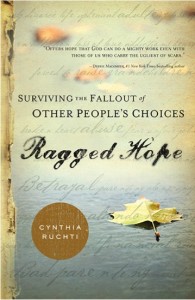 I truly believe that God is most glorified when those who are called by His name endure suffering, clinging to Him and "praising Him in the storm" (as Casting Crowns say). Cynthia Ruchti's new book Ragged Hope: Surviving the Fallout of Other People's Choices takes it even a step further, because while we see people cling to their Lord in times of suffering that no one could predict or avoid, such as illness or unemployment or a difficult season with a child, the profiles in Ragged Hope profile those who are struggling or hurting as the direct result of someone else's bad choices. People cling to hope, perhaps only surviving instead of thriving, but doing so with grace, in the midst of:
a husband who sullies the reputation of his family and causes financial hardship after embezzling
family pain that spans generations because of a long-held grudge
a mother grieving the loss of her first child, forced into adoption by her parents
death and debilitation caused by alcohol abuse
The stories are all different, but the thread that I pulled from each of them is this: We can't control what happens to us, but we can control how we respond. Will we let bitterness drive the stake even further into our hearts, or will we choose to accept what we cannot change, and perhaps let it change us for the better, building character and compassion and selfless acts of kindness?
At the end of each profile, Ruchti drives it home with some reflections in the forms of questions that we can use to deepen our own relationship with God. Whether or not we've faced that particular crisis, is there something we can apply to our own experience? And then she gives a few short tips how we can minister to someone facing that same situation. I think this part of the book was most meaningful to me, because we don't know what to do, and especially when the offenses are made by a fellow Christian, we are even more confounded. But it happens. And they or their families need our support. This book helps people empathize and even gives a few practical steps of support one could make.
In the closing of the book, she explains her purpose
Unforgiveness and resentment enslave us to the hurt, justified though they seem. When forced to bear the consequences of another's actions, we can't afford to be hamstrung by resentment.

But this isn't a how-to book. It isn't a how-come book. It's a celebration of the resiliency of the human spirit, the courageous resolve of those determined to survive despite the fallout of other people's choices, and the exquisite redemptive power of the God who can wring beauty from ashes (196-197).